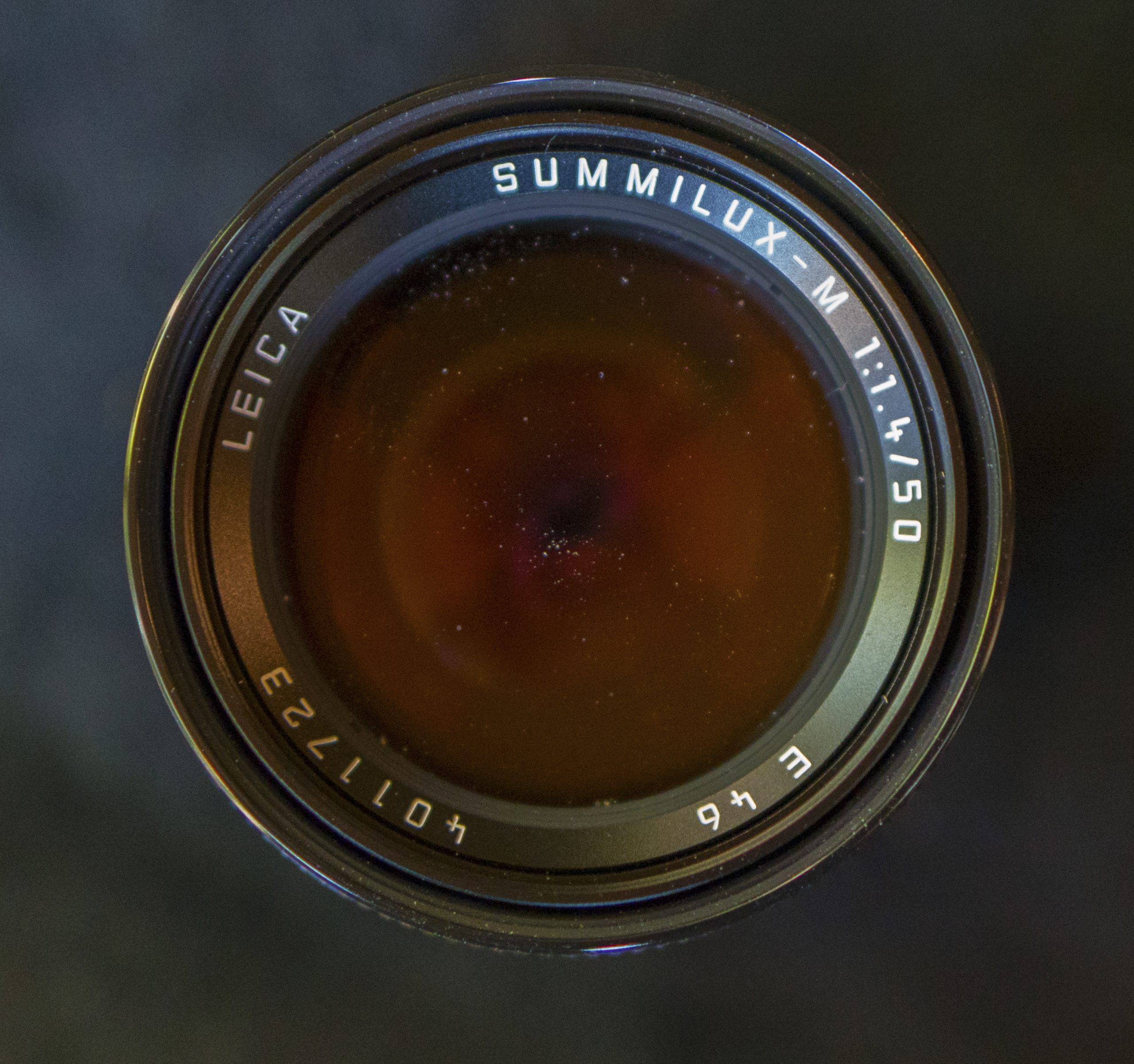 Leica Summilux 50mm f/1.4 Pre ASPH Lens Review
Introduction
What is the best way to test the limits of a lens?
I wanted to know how well Leica Summilux 50mm f/1.4 Pre ASPH lens – Millennium Edition would perform under less than ideal circumstances. For those who are not familiar with this edition of Leica Summilux 50mm f/1.4 lens, it was released as pre-aspherical design version to commemorate its design before all Leica Summilux lenses became aspherical in design. This pre-aspherical design has a unique character with an "older look" translating to a warmer more artistic presentation of images.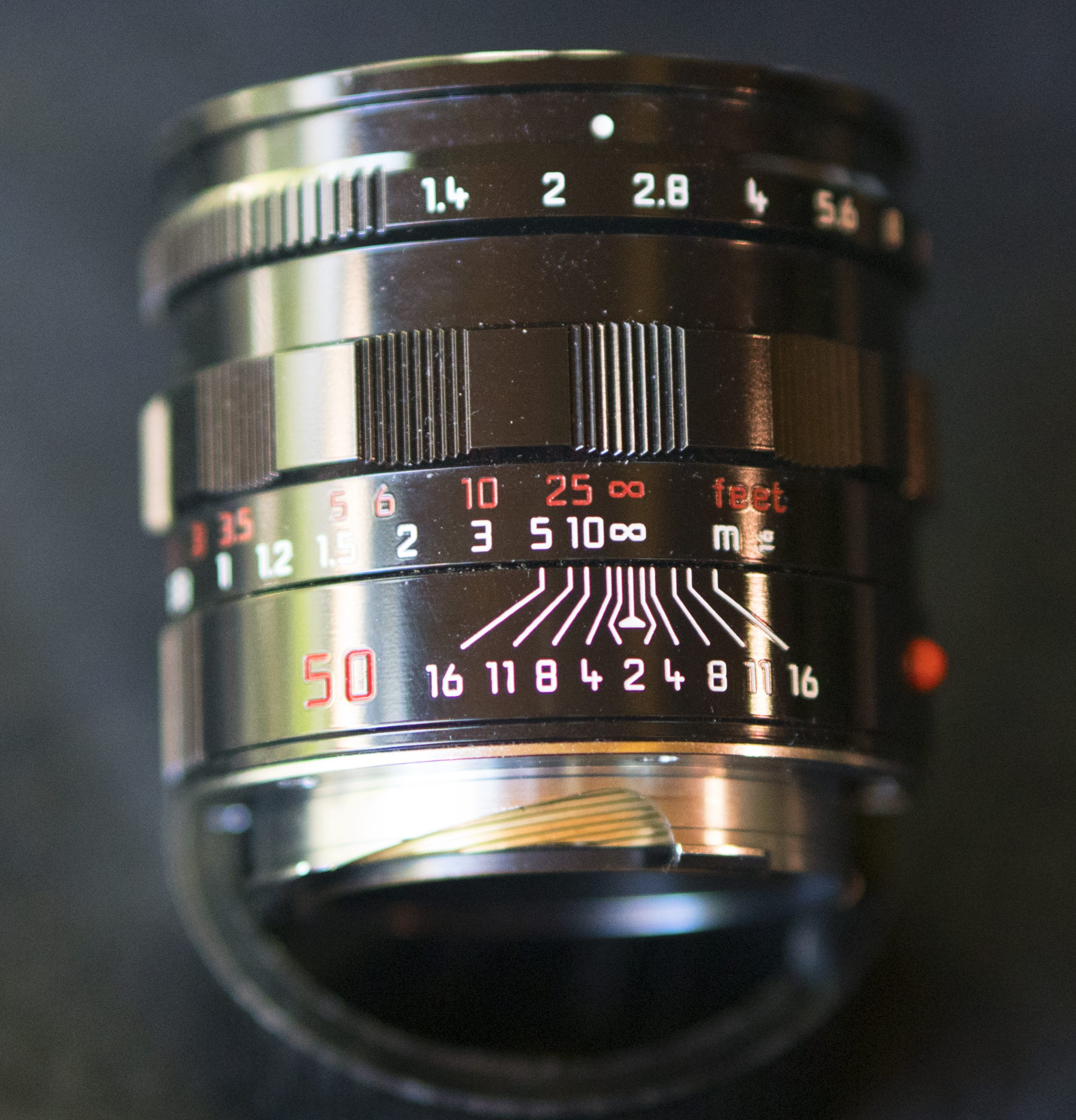 As a photographer, my aim in using a lens with pre-aspherical surface is to remove much of the clinical and digital feel from the images to achieve a "film-like" photographer. In the current production of Leica Summilux 50mm f/1.4 ASPH lenses certain improvements were made to the lens design for the lens to perform "better" with less distortion and more contrast. I own both versions of these Leica Summilux lenses and use them for different applications. You can read about how I use the aspherical version in my other reviews.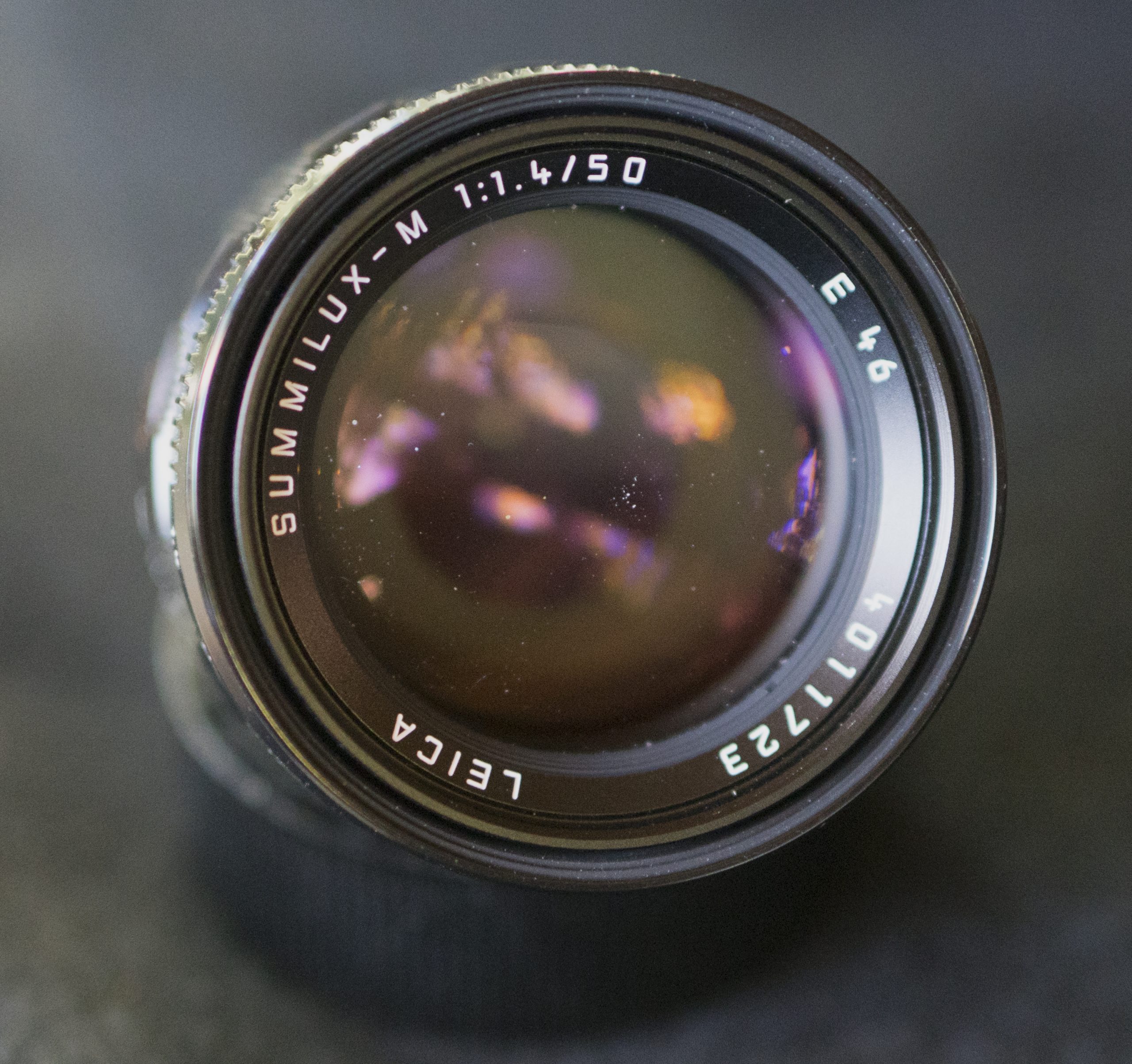 For the Leica Summilux 50mm f/1.4 Pre ASPH lens  – Millennium Edition edition which is probably my favorite Leica Summilux lens, a lens that is known to have beautiful bokeh and fast, I decided that the best way to prove its prowess would be to take it to a bar where the lights are dim, and only available light can be used. (You can achieve similar results with Leica Summilux 50mm f/1.4 Pre ASPH lens, here is a link to find them.)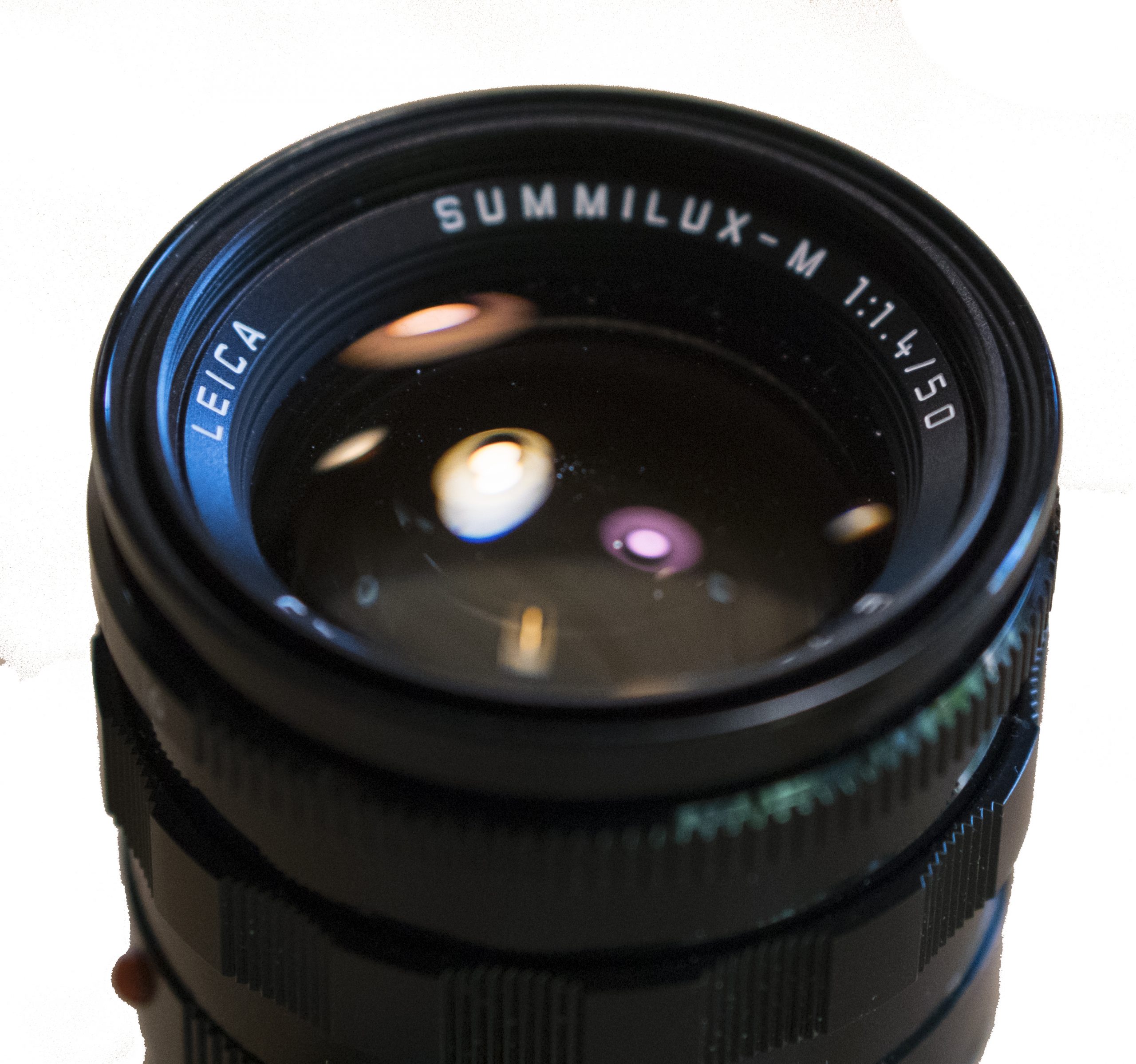 I also wanted to use the photographs, so that meant the ISO levels need to stay at no more than 2000. As you may know, Leica M-P 240 camera can be used at much higher ISO settings, but I did not wish to have low-quality image with high digital "noise" for this very reason on CMOS sensors I rarely choose to photograph anything higher than 2000 ISO. The preferable range is 1600 ISO for indoors and 200 ISO for the outdoors.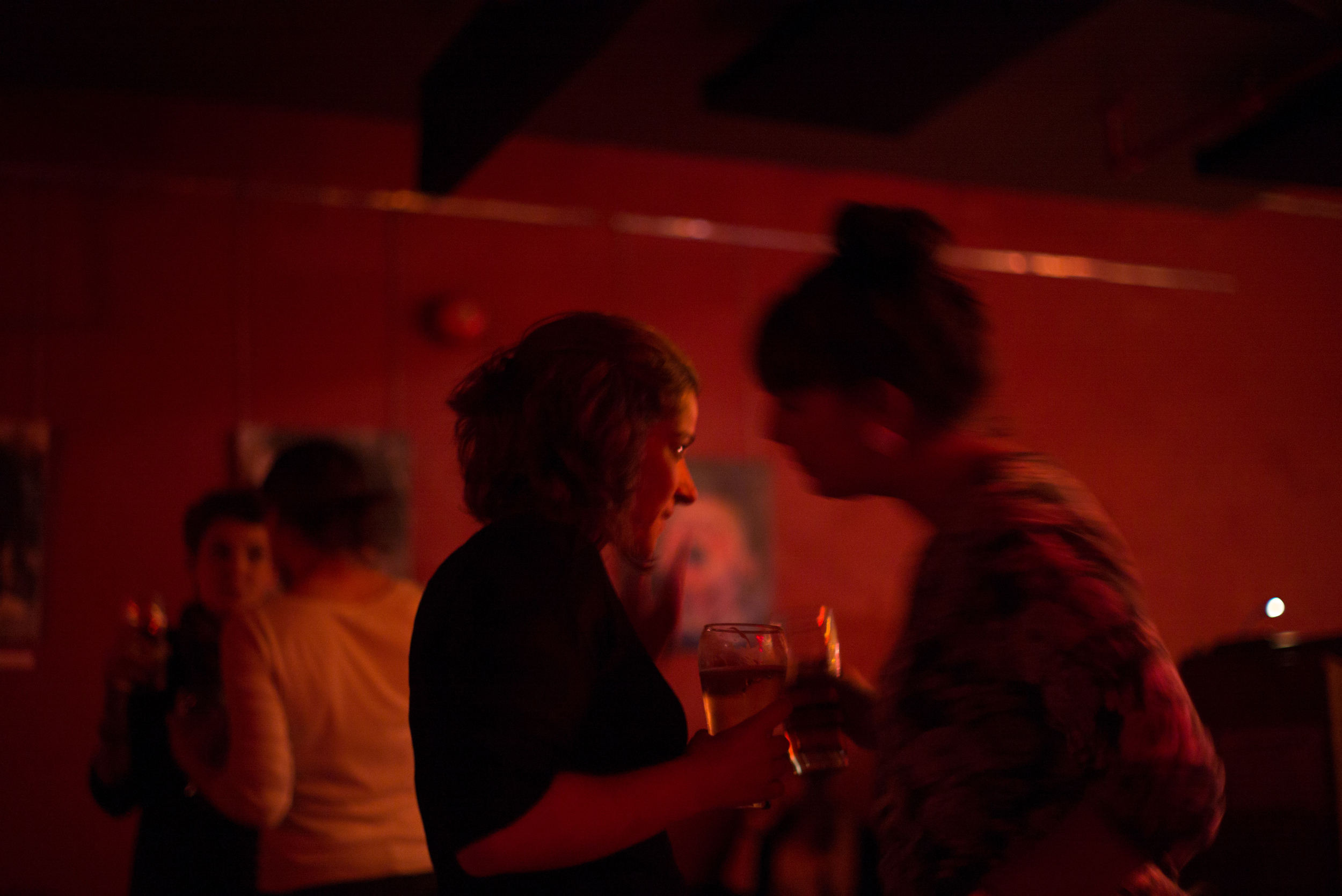 The challenge, of course, is not to only have a low ISO setting at a caliginous location but to photograph people without having to do manual focusing which would automatically raise "no, no" red flags in bars. This meant that the only way to go was to increase the aperture size which reduces the light received by the sensor. Obviously, that was not an option with the given ISO setting and the shutter speed of 1/30 or 1/60. I could not use a tripod which made matters even more challenging.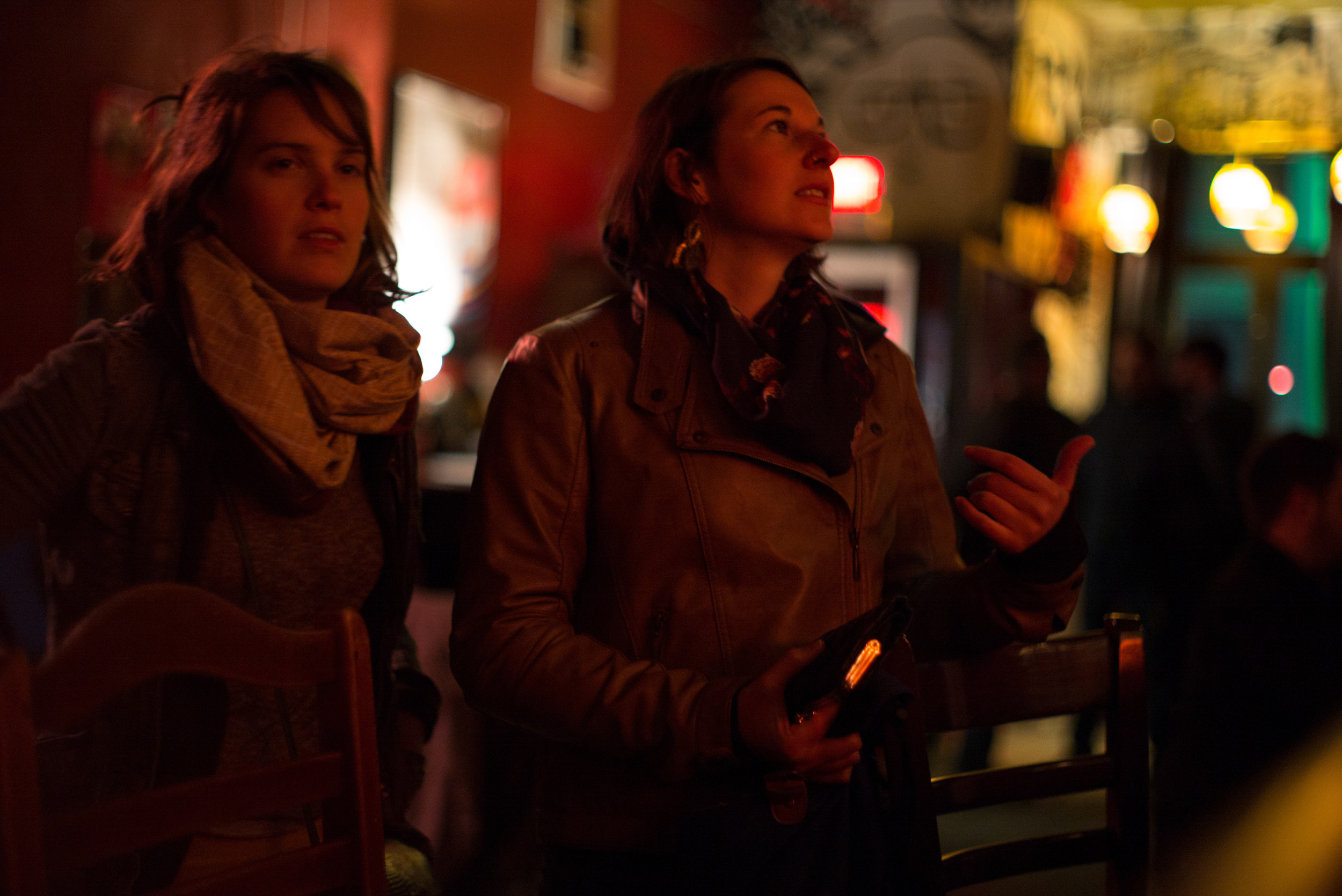 So, here was the challenge, to photograph with ISO setting of 2000, at the widest aperture with highest possible shutter speed without having the shots underexposed. Technically, at f/1.4 the depth of field is so shallow that even a few inches of a shift in the position of the subject or the photographer would result an out of focus photograph. But, that is what the conditions called for, and a photographer must do his best to compensate for less than ideal circumstances.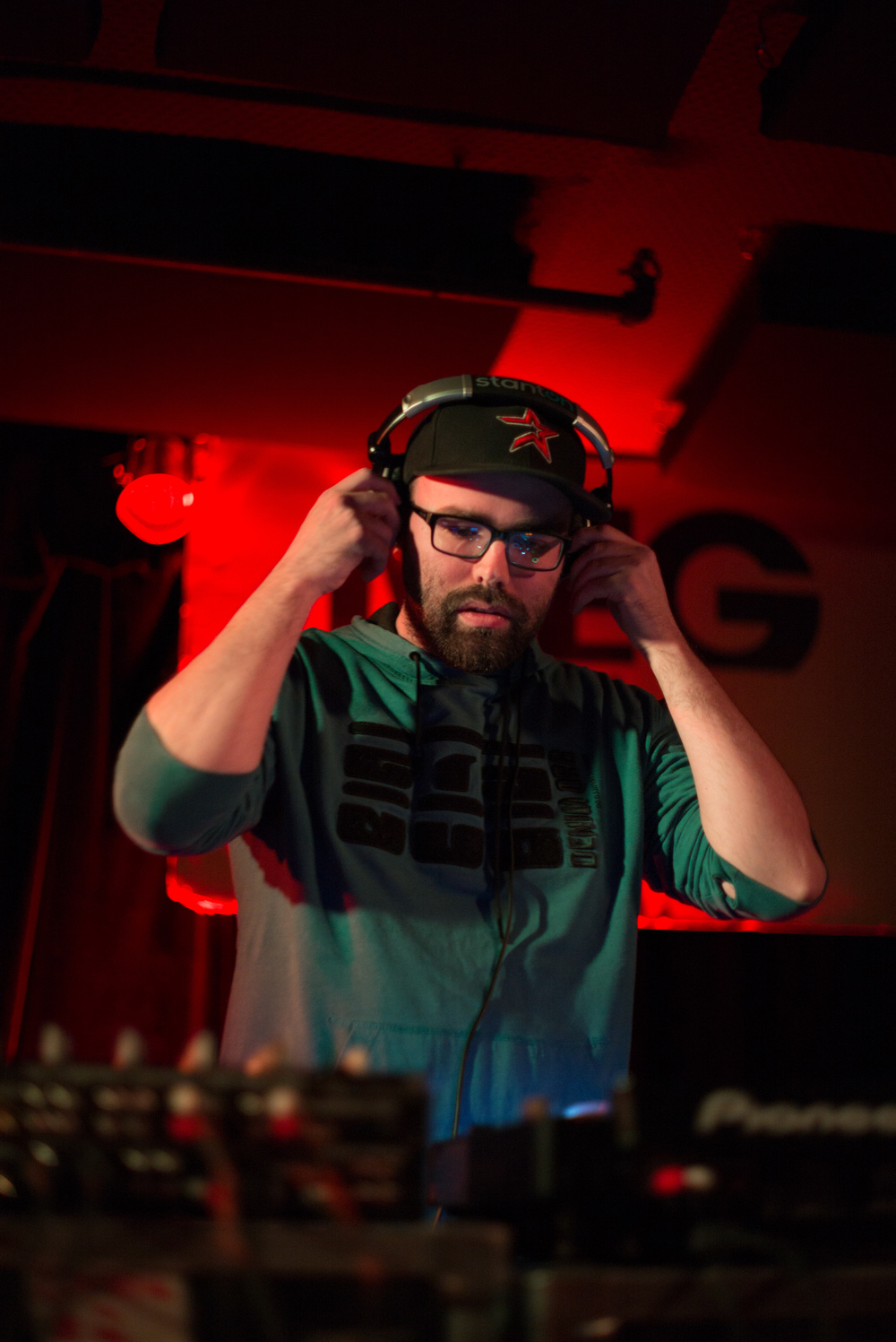 Leica Summilux 50mm f/1.4 Pre ASPH lens – Millennium Edition is an extraordinary lens because it is non-aspherical which means the images are more dreamlike and smooth than aspherical versions of it. Hence, non-aspherical lenses require better accuracy in focusing on attaining the desired 'look' while aspherical lenses of later generations are much more forgiving.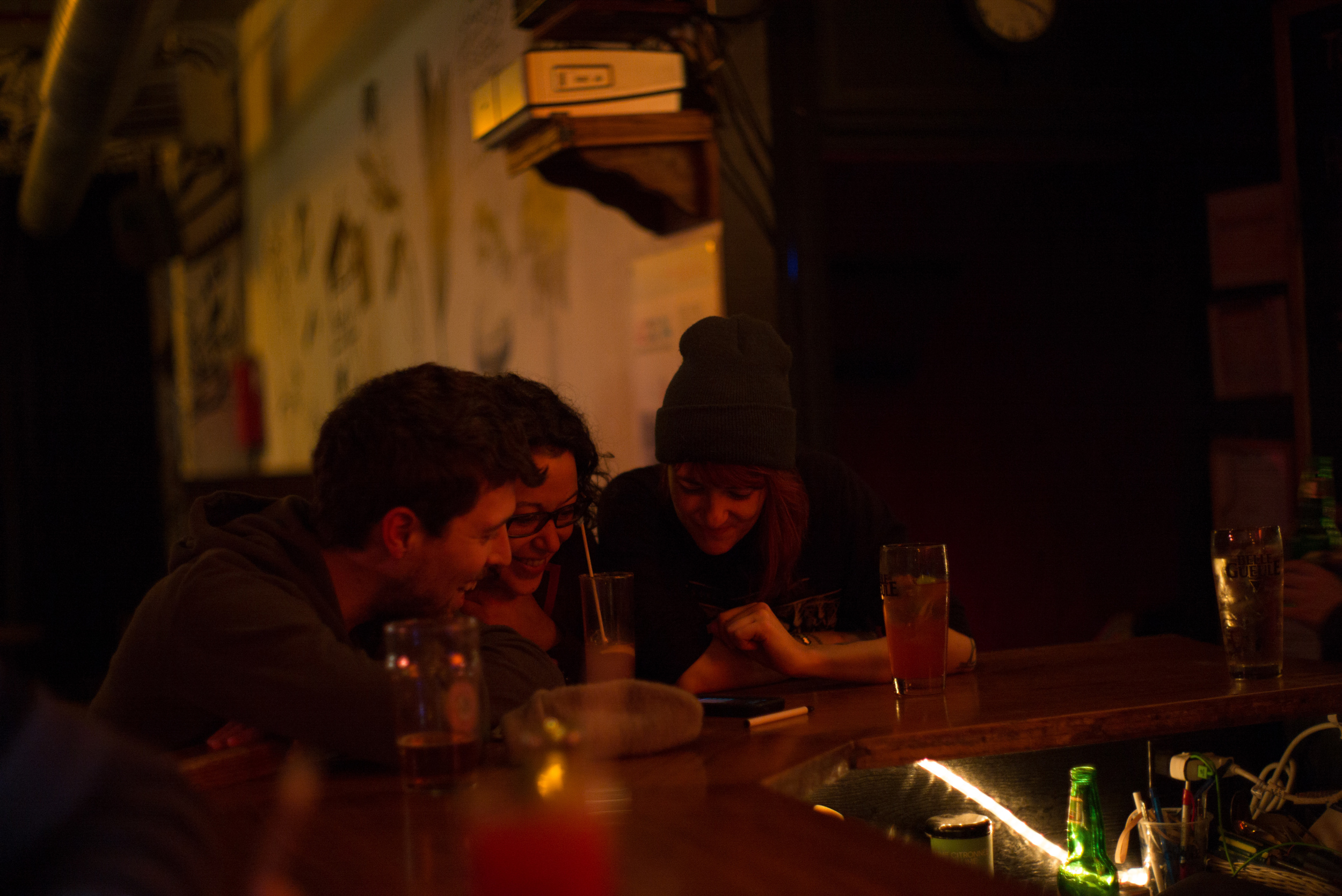 As I made my way into the thinly populated bar, I noticed that the music was provided by DJs who were playing electronic music. My first requirement to photograph anyone meant that I needed to blend in, at a weight of roughly 105 kg or 230 lbs., this is easier said and than, but experience has thought me that after a while the 'room' begins to accept you if you are seen 'non-threatening.'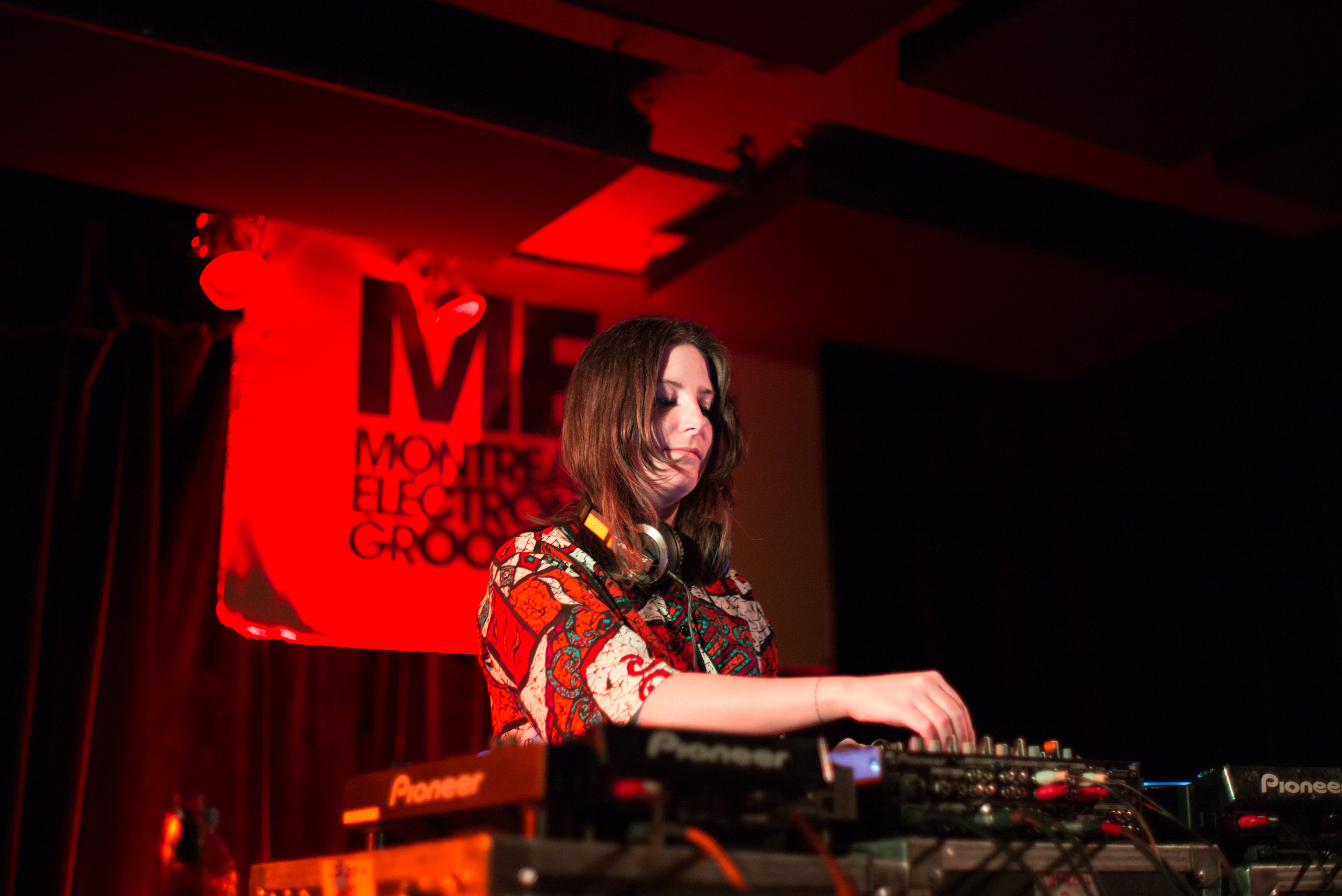 I took my place at the bar, and order my drink. After a little while, I reached into my bag to take out my camera and put it on the bar. So there would no surprises for anyone if I am 'caught' in the act of photographing them. This is important because at bars, cafes and other entertainment establishments some level of familiarity and acceptance is needed before anyone can attempt to do any photography. For this reason, discretion is necessary, and a photographer's position must be of respect for the energy of the 'room.'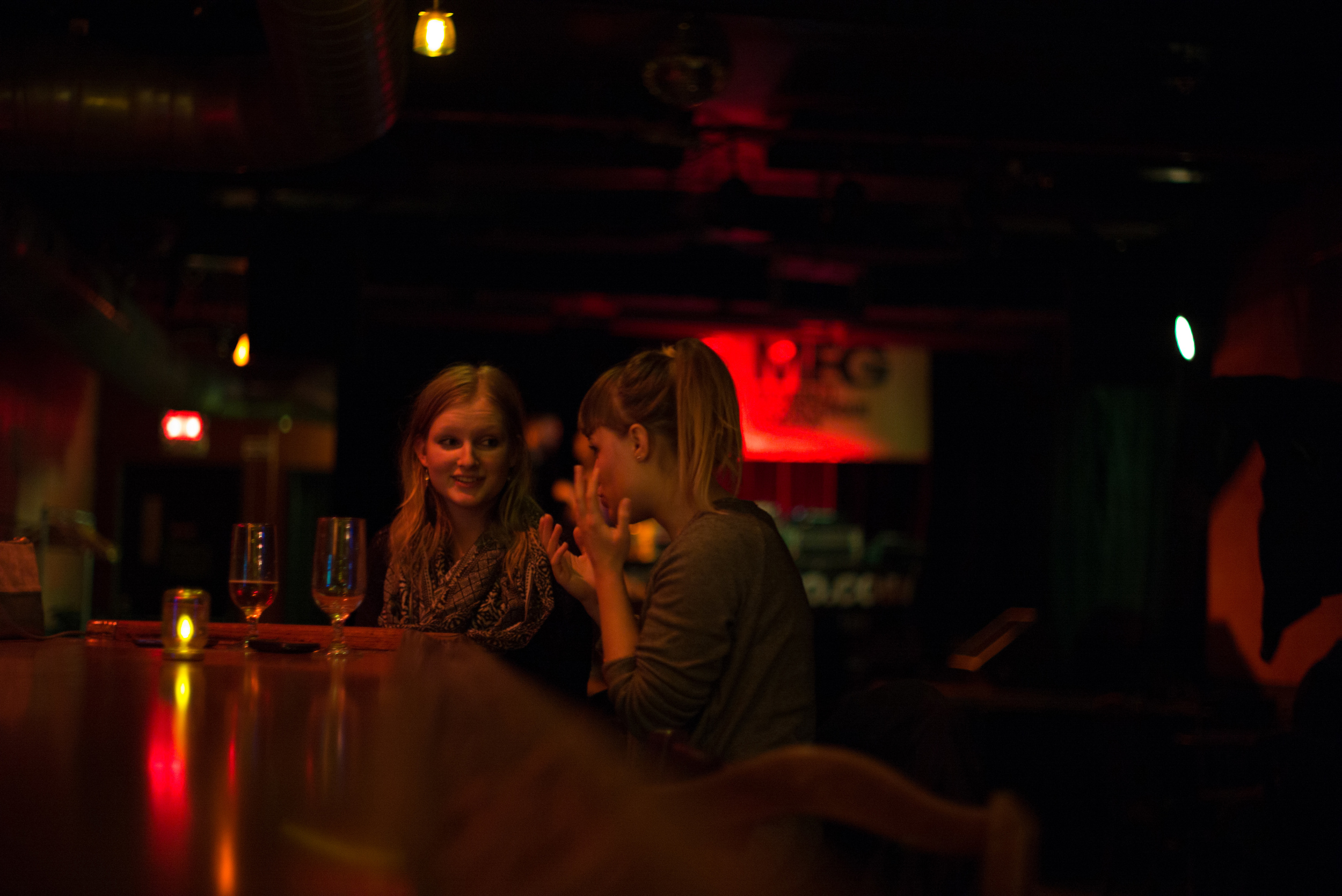 I had set my Leica Summilux 50mm f/1.4 Pre ASPH lens at f/1.4 and ISO at 2000 before I even took the camera out of my bag. This is essential because preparation is a major step in making sure the photographer gets the shot.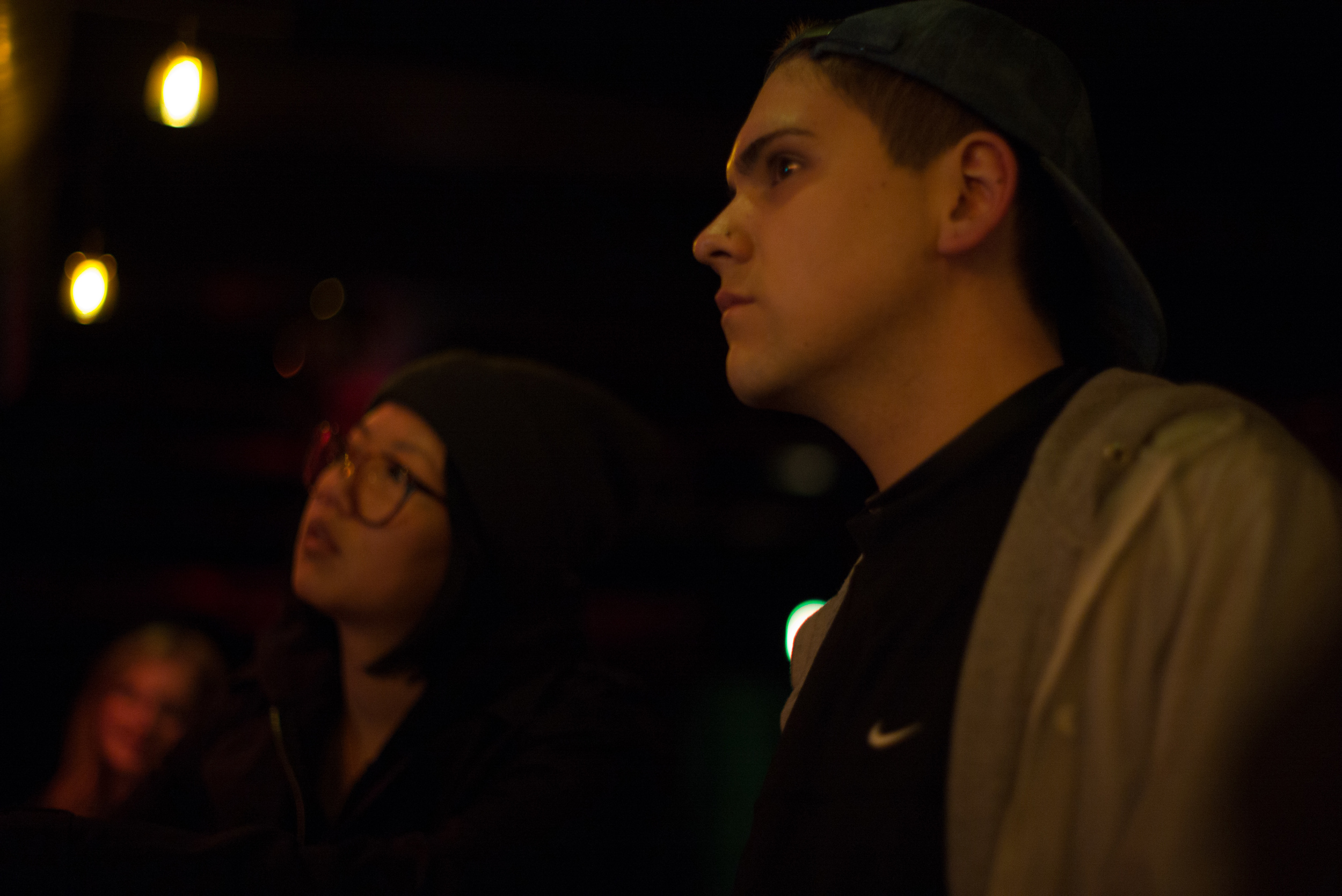 My first move was towards the DJ that was on stage. I took some photographs then asked if I could come up on the stage to continue shooting. DJ gave me the nod, and I was in proximity to photograph, but the spotlight made the photos appear plain "flash" like which meant I had to find a solution. I positioned my camera at an angle that reduced the glare of the spotlight but was not the best angle to provide an 'interesting' photograph. Nevertheless, I did manage to get some photographs.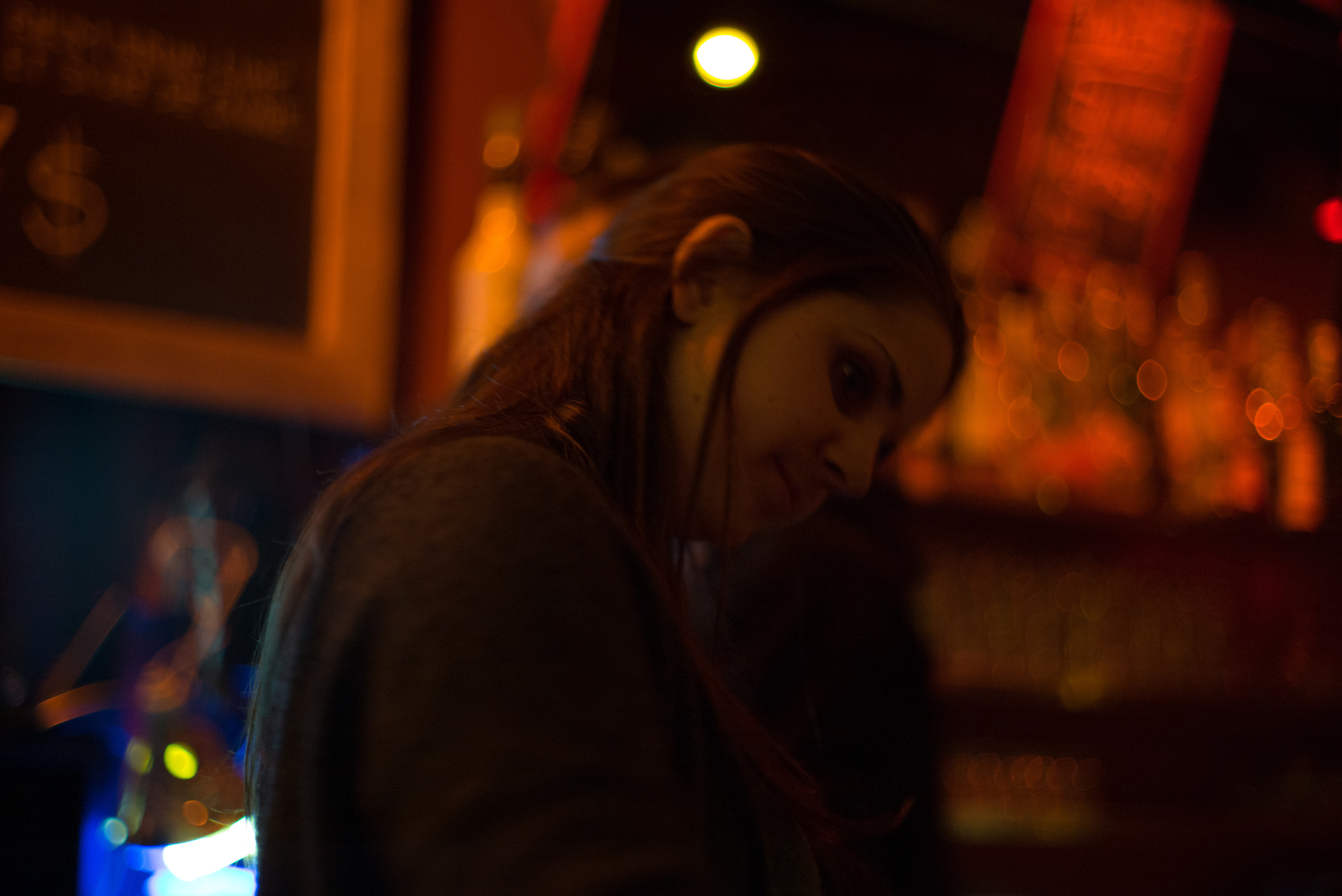 After returning to my place at the bar, I noticed that the group on my left was engaged in a deep conversation which gave them a 'harmonious' vibe. I set the camera at an angle that would help me to position the group in the frame. I fired a few shots with my Leica Summilux 50mm f/1.4 Pre ASPH lens; the 'scalloped' focus dial is a blessing to use when the rapid focusing is needed.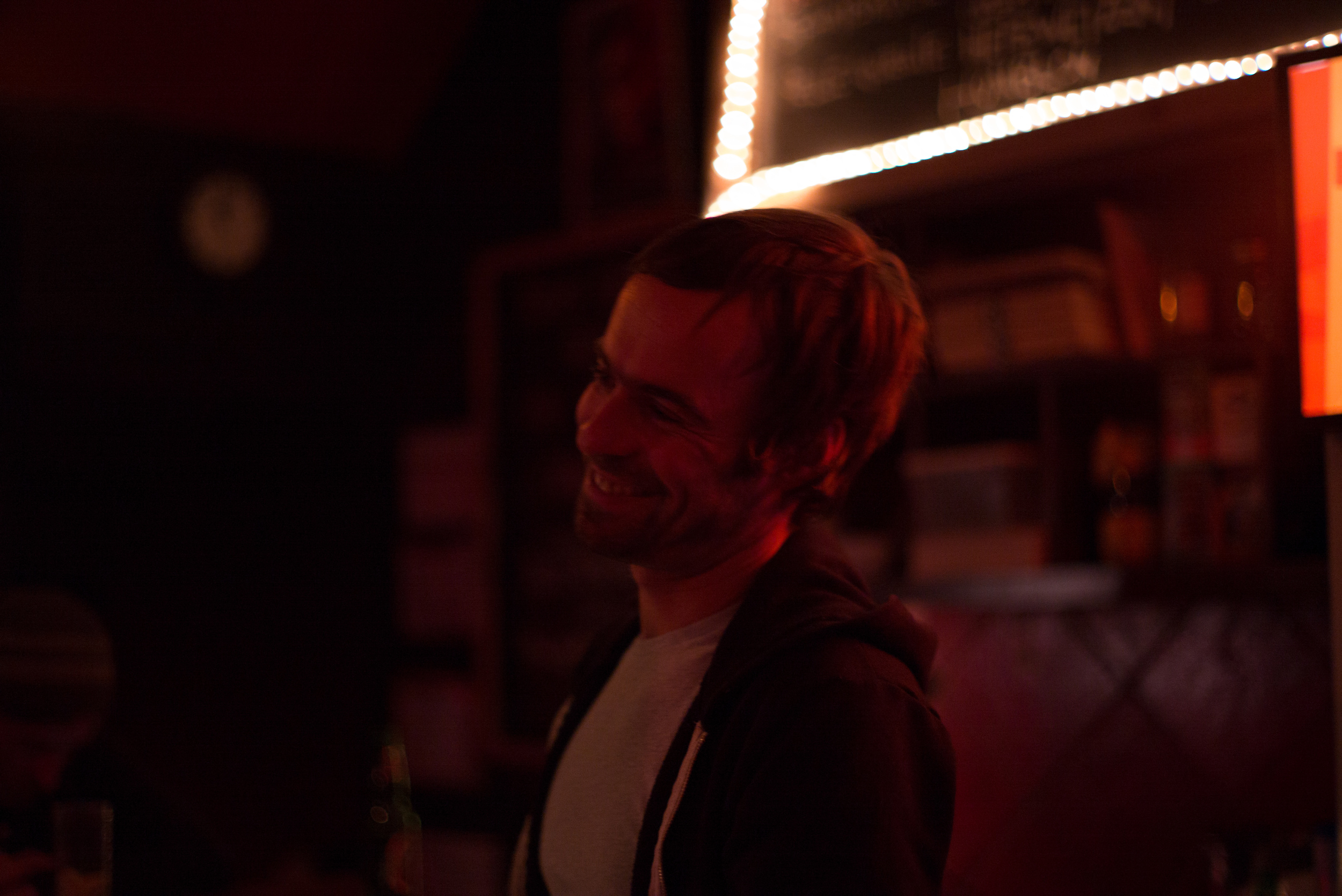 Noone that night knew I was photographing. In fact, I had passed more than half hour before I was just as part of the bar as anyone there. Next came the men playing 'soccer,' they were happy and laughing, their energy hangs in the air, so I pointed my camera in the direction of the men, focus dial was set at the approximate distance of the subject whom I was attempting to capture in focus.
As I turned towards the bar, I quickly glanced at the photographs that I had taken that night. They looked promising especially knowing that all photographs were taken at the widest aperture with a very low shutter speed.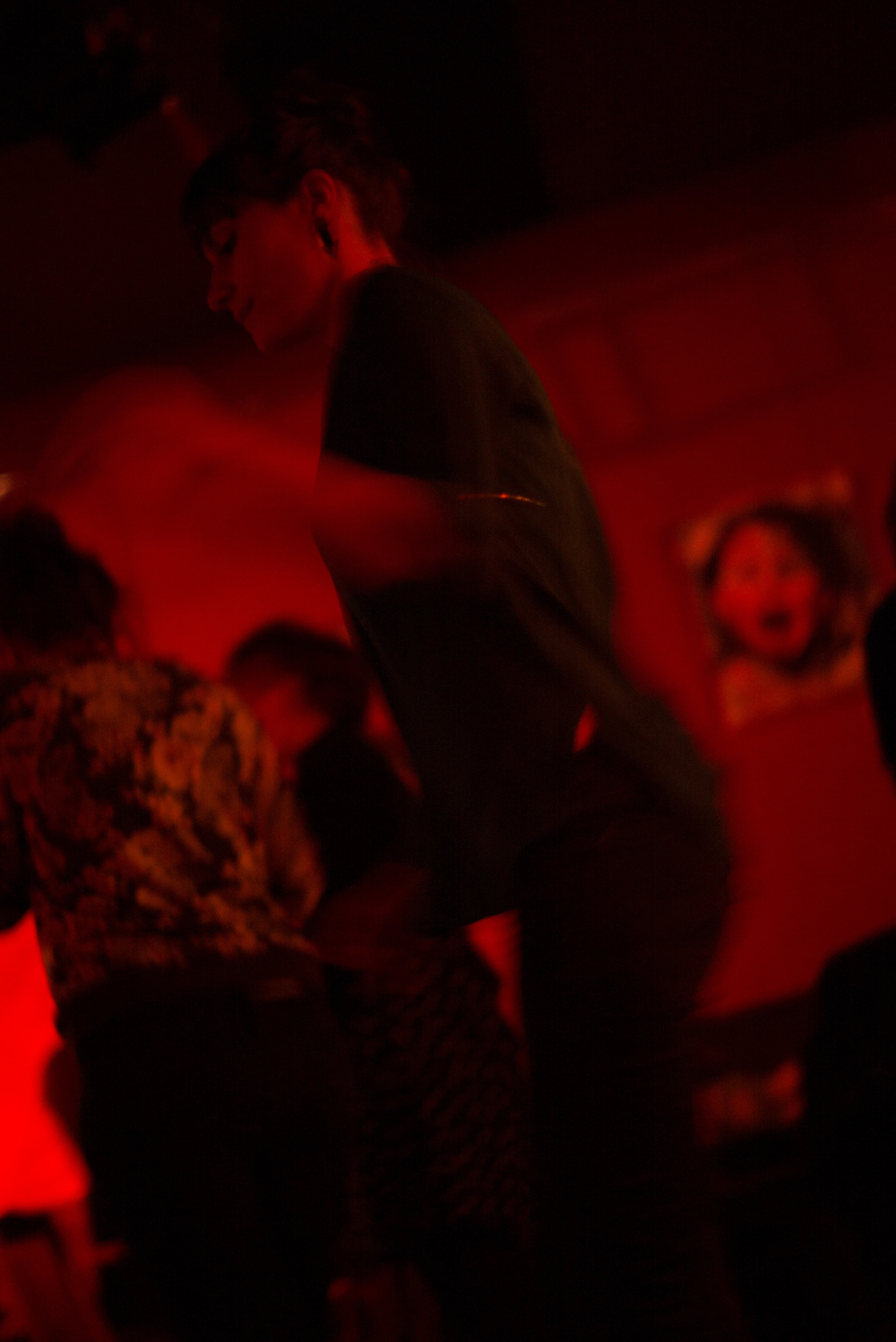 The girls at the end of the bar represented a different challenge. A proper position to photograph their faces meant that I either needed to be behind the bar which was not a possibility or the people who were seated at the bar moved away for long enough for me to capture the photograph that I was after.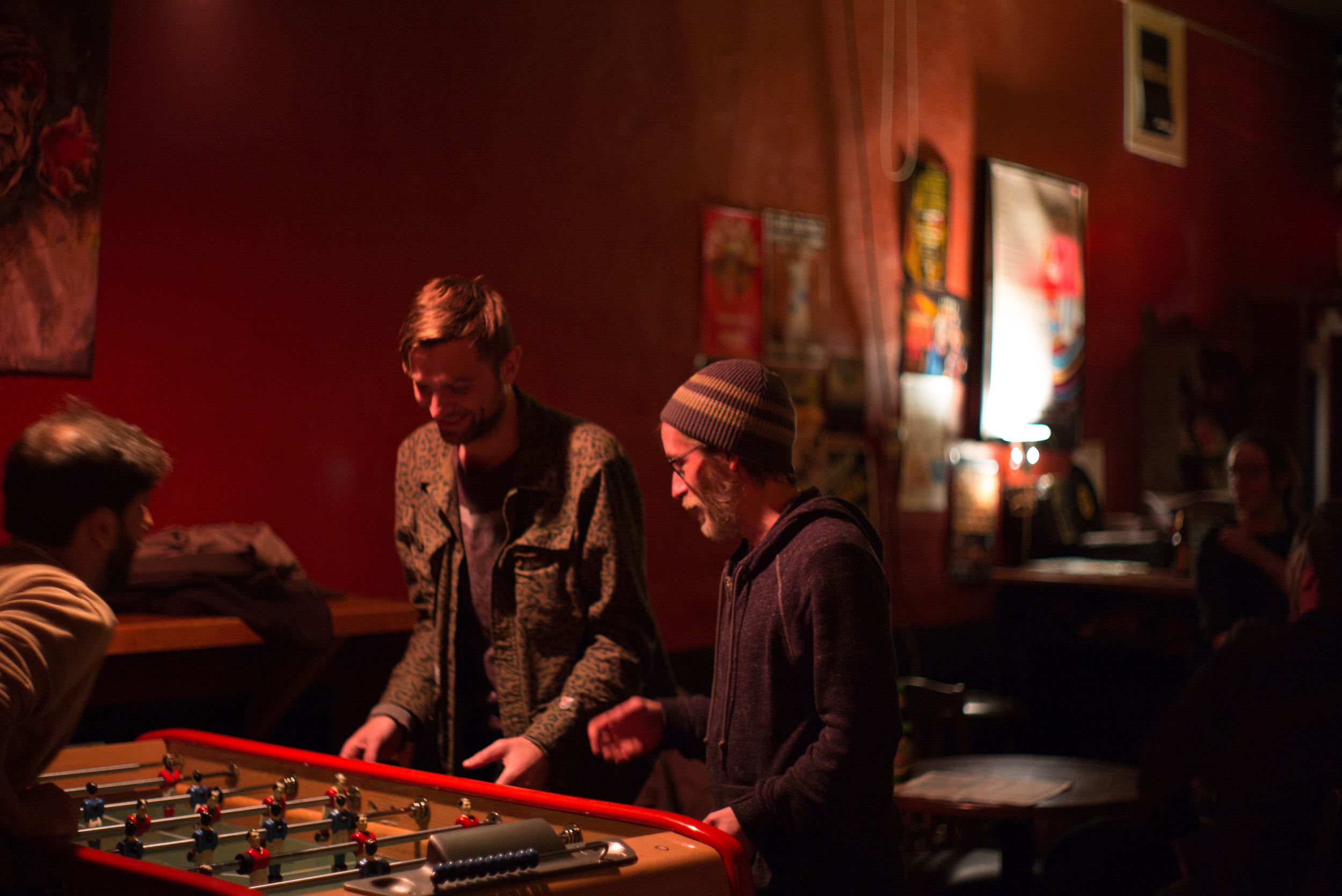 I again estimated the distance, set the focus dial, then focused at the right distance without pointing the camera t the girls. This meant using Live View function which comes with Leica M-P 240 camera safari edition part of the improvements ushered in by the use CMOS sensors.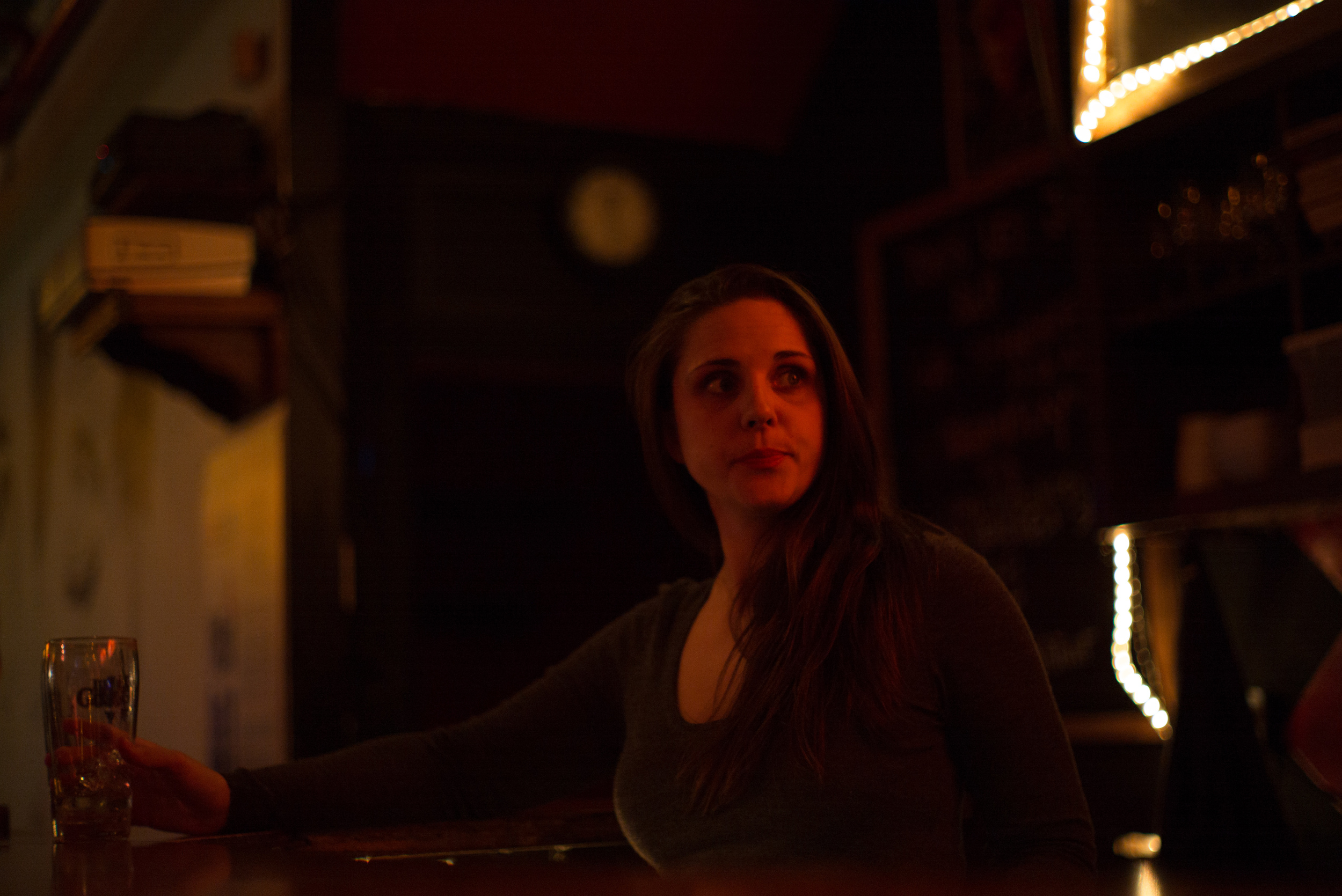 The words of Henri Cartier-Bresson's words were ringing in my ear, 'wait for the decisive moment.' And I waited until the people who were at the bar somehow moved away from the bar long enough for me to capture the photograph I was looking for. I had sealed three photographs that night under less than ideal circumstances.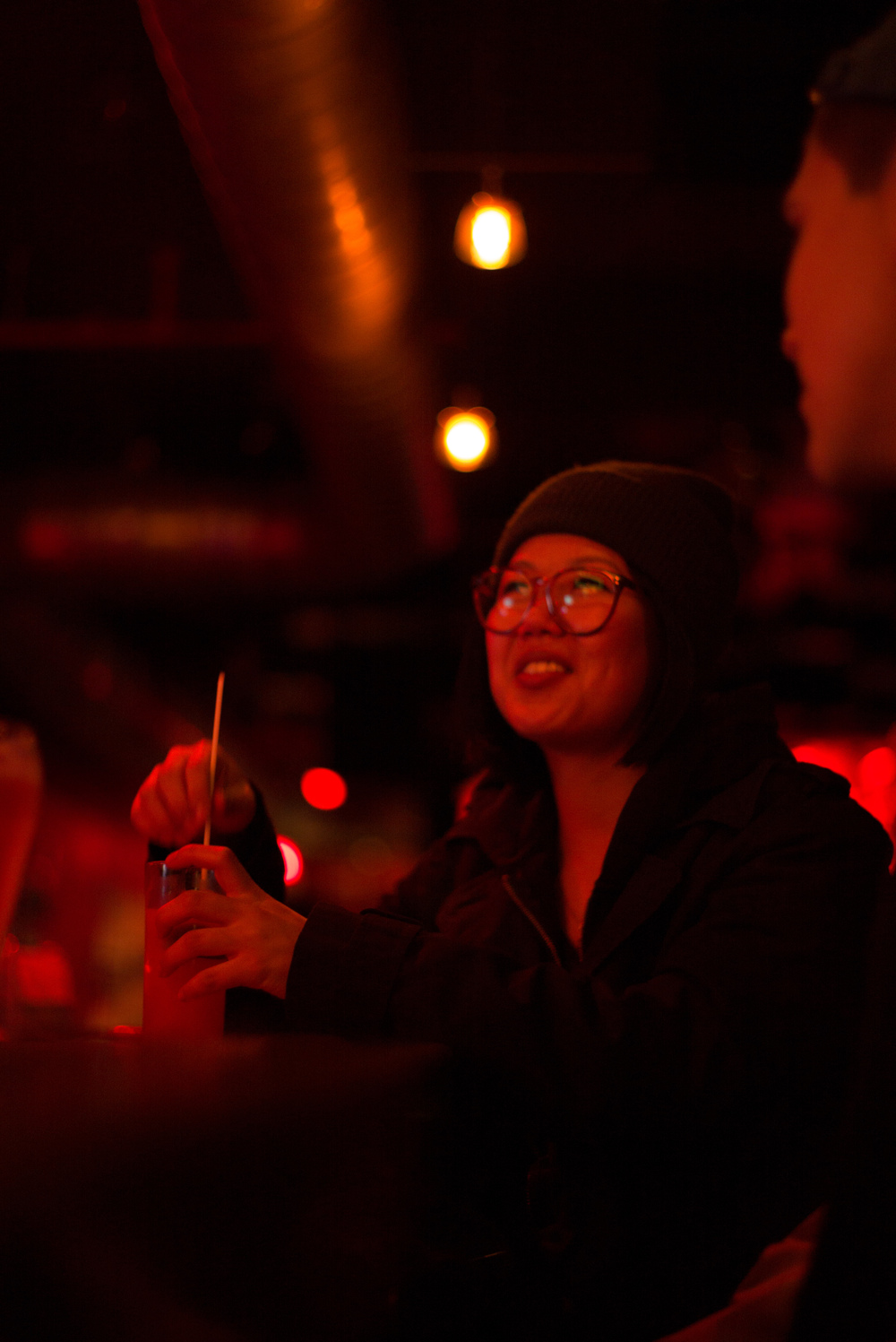 I wanted to do some close-up photographs to show how Leica Summilux 50mm f/1.4 Pre ASPH lens would do under low light situations. I took two different instances to show that the photographs close up revealed a beautiful character and sharpness that has made this lens a legend through the years.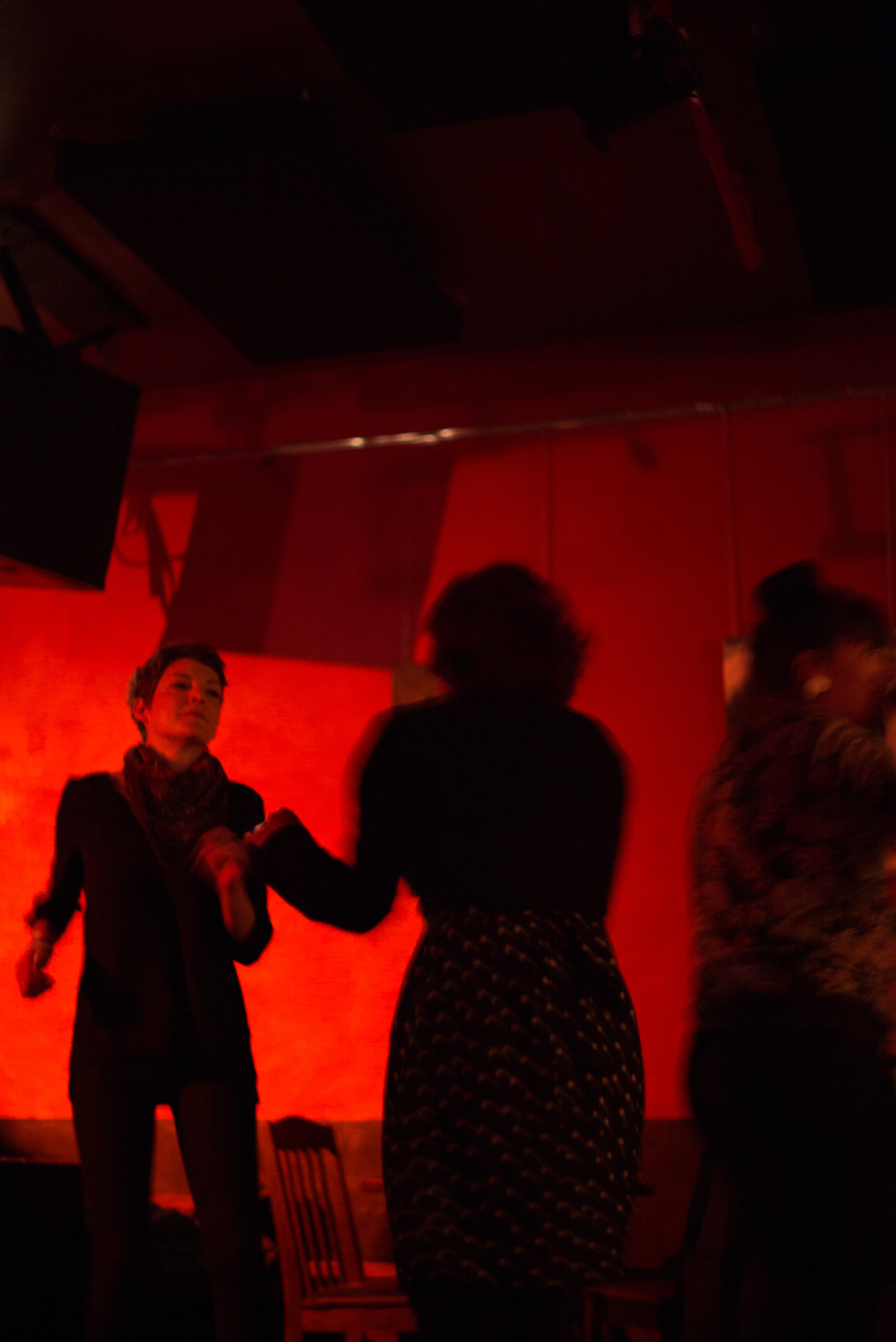 Do I love this lens?
Yes, I felt a rush of happiness coursing through my veins when I saw a photograph that I had taken capturing the moment the way I wanted to be seen. It was from this pleasure every click of the shutter made me enjoy the challenge of photographing in near dark location.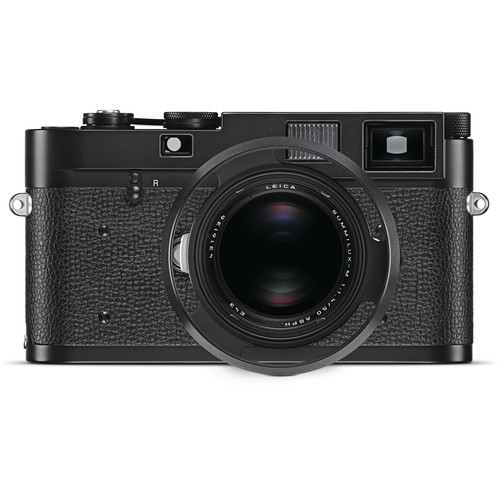 As the night progressed, some people began to dance to the music. I wanted to capture their energy and tell it in photographs. But extreme low light situations meant that camera could not be used efficiently without a tripod. The subject was moving which meant that at low shutter speed they would only blur.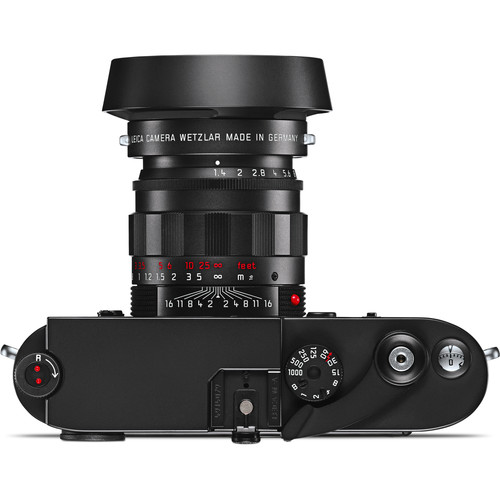 The challenge was to have enough blur to indicate movement without having the face out of focus. Easier said than done. So, I marked 2 meters or about 6 feet from my position to the first subject I was aiming to photograph.
Her erratic movements made photographing almost impossible; then I noticed that her movements were repetitive which meant that if I fired off the shutter at the right moment, I could have her face in focus with her body still in motion. Great.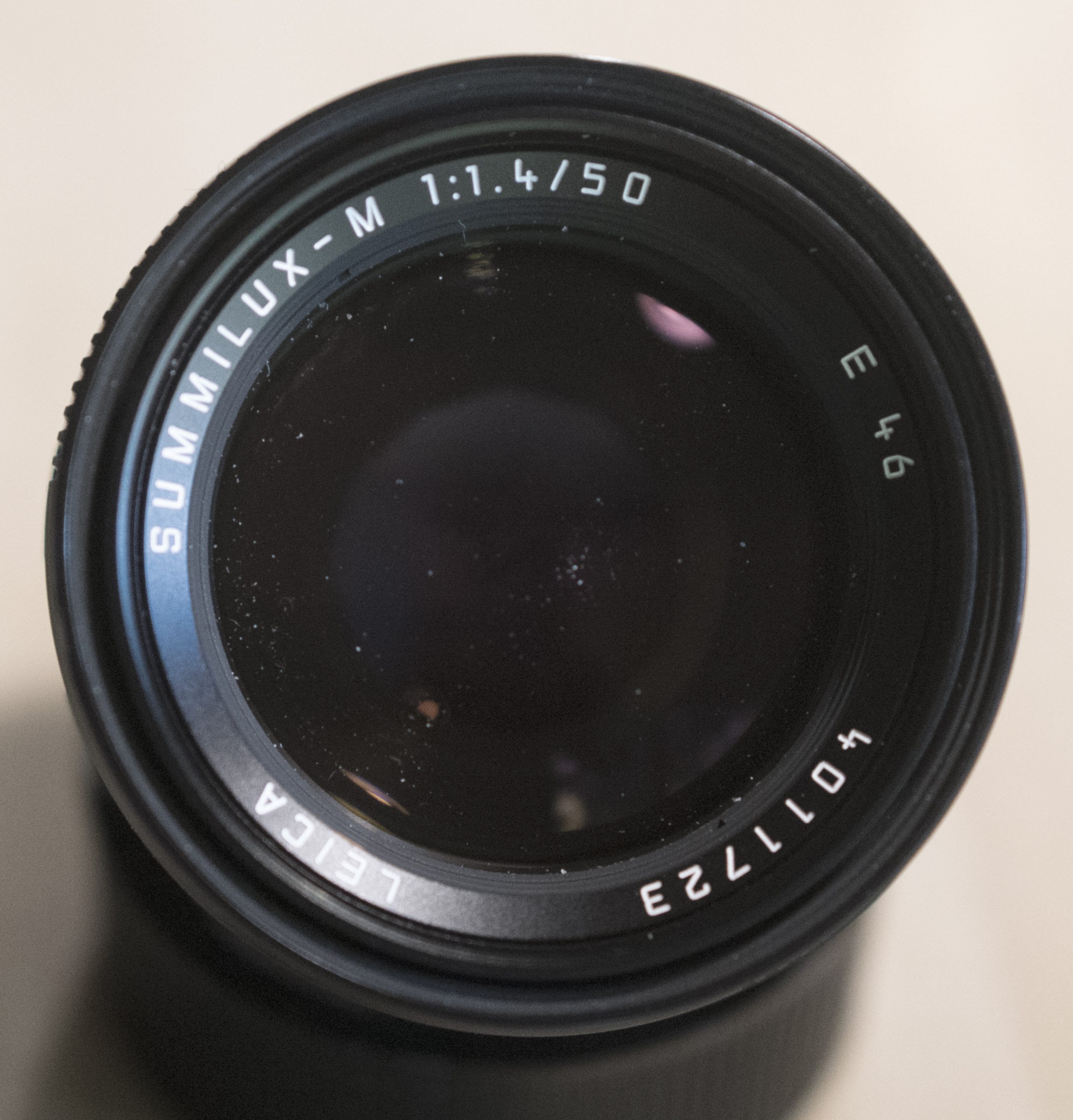 There were other situations where other compensation had to be taken into consideration to capture the image. The best part of the experience was Leica Summilux 50mm f/1.4 Pre ASPH lens just felt like an extension of my limbs which knew how to focus without having to look at the focus ring or aperture dial. That is the ease of being familiar with Leica cameras and lenses. After a while, the design and construction of the lens allow the owner to 'know' how to operate it at verbatim.
Certainly, the fact that Leica M-P 240 camera has all the right dials at the right positions helps when the photographer needs to concentrate on capturing the moment rather than fumbling with the dials on his camera.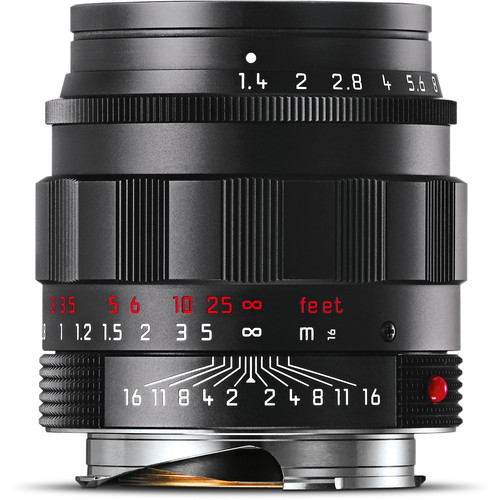 Beyond that, I managed to spend a good 3 hours at the bar, enjoying some good music and observing everyone as they went about doing their thing. As a photographer learns to have a keen skill of observation he or she gets to be at ease with his or her environment, however, fast it might be changing, only then great lenses and cameras Leica camera makes come to the service of their users.
That night when I came home, I uploaded the photographs onto my computer to view them on a large screen. The colors, the way the photographs were rendered just once again proved to me why Leica lenses and cameras are legendary.
For this article, I did not do any alterations on the images except to save them as JPG files for uploads. So, the photographs are untouched and looking at images as they are, they can be used just as they were shot.
My recommendation for anyone wanting to own this lens is to give its due respect and become familiar with the way it operates. Especially the black paint finish on the surface of the lens is something that your hand will need to feel at ease with before becoming second nature to operate it. The aperture dials clicks must become second nature to know which aperture you are at without having to look at the aperture dial to get the most out of the lens' capabilities.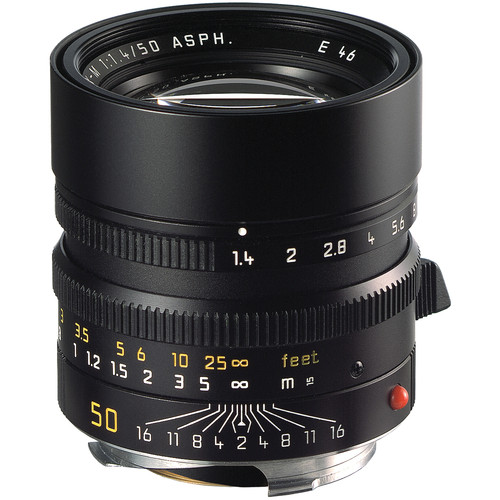 The focus ring especially will mean that for those who are used to thumb lever type dial that is often used on Leica lenses will need a little getting used to which is fine if you are used to the feel of Leica focus rings.
I would highly recommend this lens not only because it is a lens that will give excellent service over many years or that it will become more and more valuable as the years go by but for the pleasure of handling a lens that holds a real character of what made Leica lenses exceptional.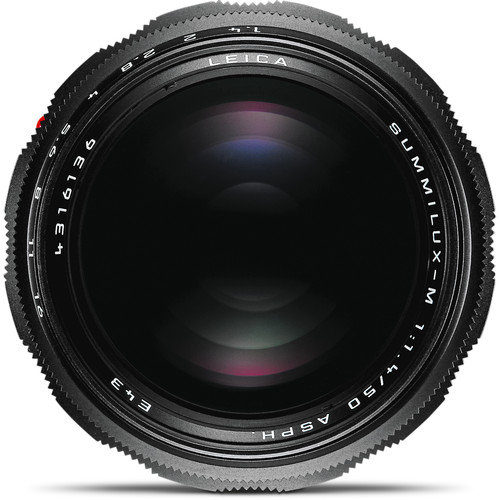 If you like special lenses and would like to make a prudent investment, Leica camera currently has a Leica Summilux-M 50mm f/1.4 ASPH. Lens (Black-Chrome Edition) that is both a pleasure to use and afford excellent quality. It is reminiscent of 1959 edition design but is re-engineered with aspherical surfaces, with high refractive index glass to incorporate technological advancements to an already superb design. Personally, I love this lens as well and would be a definite choice for photographing portraits and street. But there are only 500 of these lenses that will be available. So, if you would like to purchase it before they are all gone here is the link.
HELP US TO KEEP LEICA REVIEW INDEPENDENT.
WE ARE COMMITTED TO BRINGING YOU INFORMATIVE ARTICLES ON LEICA CAMERAS AND LENSES.  WITH YOUR DONATIONS WE ARE ABLE TO MAINTAIN THIS WEBSITE.