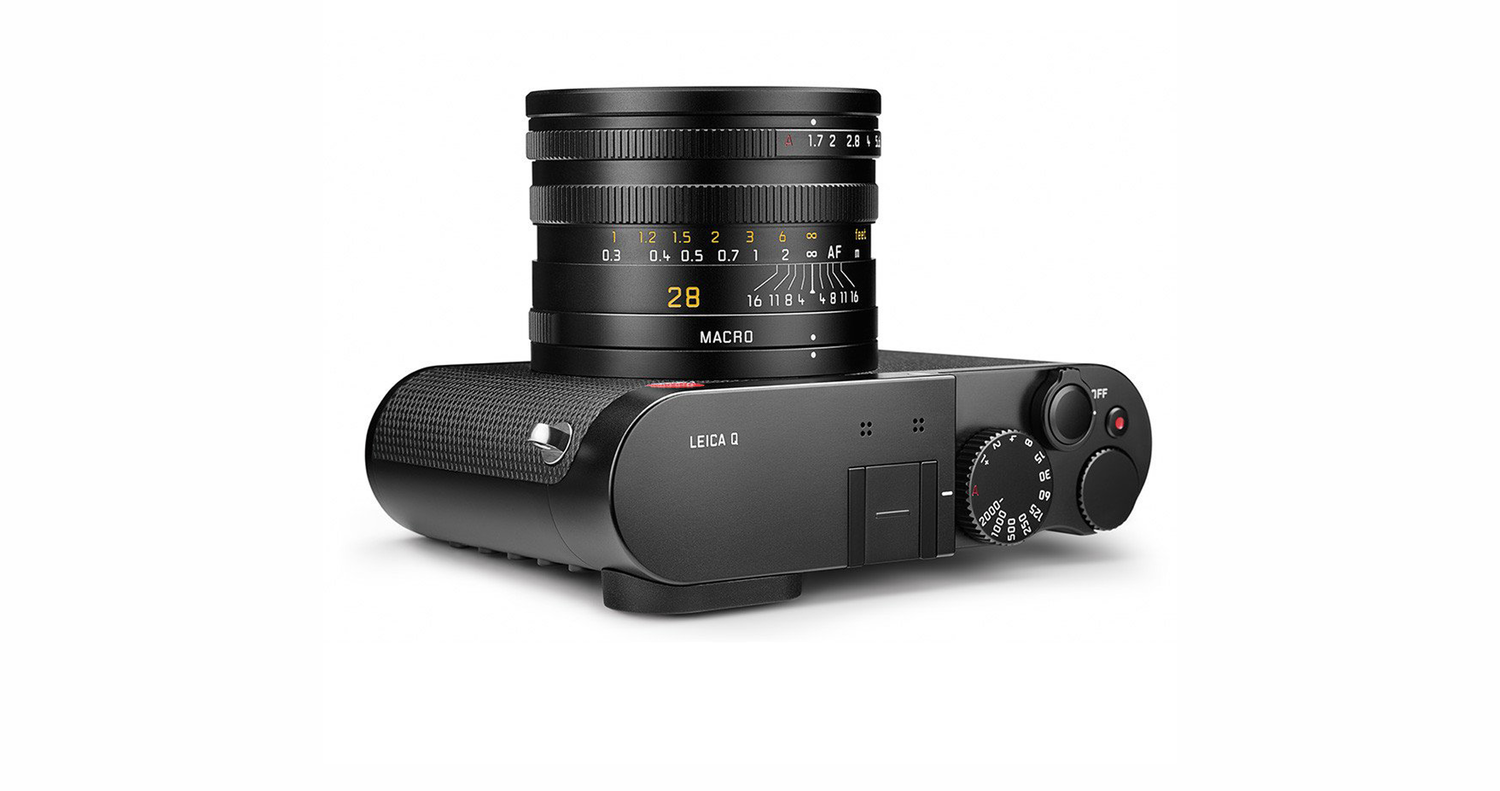 Introduction 
I have resisted the temptation of writing a review for Leica Q camera. The reason was very simple; I wanted to understand how this new camera would perform in various photography projects and have a fair amount of experience working hands-on with Leica Q camera before committing to writing an in-depth review.
In this Leica Q camera review, I will not be delving into the operations of the camera but offer my observations and experiences while using this camera in various photography projects.  Let's begin with the basics.
Body & Handling
Certainly, Leica Q camera is big, perhaps a little heavy compact camera when compared to other compact cameras in the market. The reason for the weight is mostly due to the high-quality materials used in the construction of Leica Q camera.
While Leica Q camera resembles a compact version Leica M10 camera with the addition of autofocus capabilities and a single 28mm fixed lens. From a design and functionality perspective, Leica Q camera has a certain appeal for anyone looking to purchase a compact camera especially for Leica enthusiasts who want to have an everyday use camera.
Leica Q camera could be yet another success story for Leica camera as it is a more affordable than a Leica M10 camera and is a pleasure to use for casual photography. Perhaps, the reason why I see Leica Q camera as a toned down version of Leica M rangefinder camera is that most people dream of owning a Leica M10 because of its classic rangefinder-style design appeal.  But hope that there would be a cheaper way of having the quality of a Leica camera by making some compromises to afford one.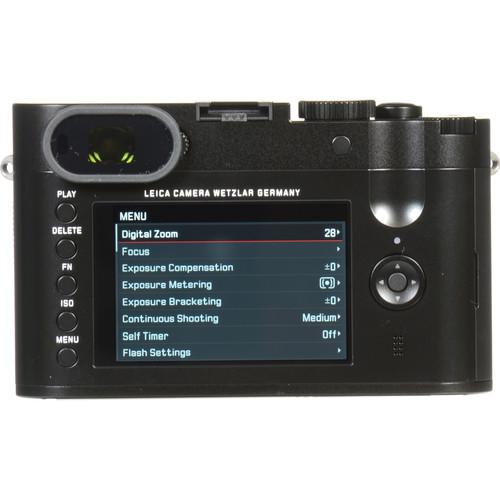 Leica Q camera has a higher price tag than its competitors in the market. There has been much debate as to whether the price warrants the name and quality associated with this camera.
From a quality and functionality point of view, Leica Q camera is a superb in build quality and delivers features that make it a pleasure to use for photography. Of course, there are compromises that were made to bring the price down so that most people who have been dreaming of owning a Leica camera even a compact one could finally be able to afford one.  For example, Leica Q camera features a 28mm Summilux f/1.7 lens while all Leica Summilux lens including the Leica Summilux-M 28mm lens feature a faster f/1.4 aperture.
Leica Q camera's Summilux lens lies somewhere in between a Leica Summicron-M lens with f/2.0 aperture and Leica Summilux-M lens with f/1.4 aperture. The price difference between these two lenses is immense. Hence, Leica Q's Summilux lens may not be the best way to name it for the sake of avoiding confusion with Leica Summilux lenses for SL and M line up of cameras.
Focal Length
One attractive feature that has made Leica M rangefinder cameras is that that have interchangeable lens mount meaning different lenses from Leica M line-up can be mounted on the Leica rangefinder body. This is also the case for Leica SL or Leica S line of cameras.
Leica Q camera features a fixed lens camera body meaning that only a single lens with a fixed focal length of 28mm is permanently mounted on the camera. Leica camera has chosen 28mm to be the focal length for the Leica Q camera which is perhaps not the most popular focal length for photographers. 28mm focal length is considered a wide angle lens which is very suitable for general photography but not the favorite focal length for portraits for most people. It is for this reason,
28mm focal length is considered a wide angle lens which is very suitable for general photography but not the favorite focal length for portraits for most people. It is for this reason, Leica Q camera may be a versatile lens for most photography application but may have been better served if it featured a 35mm focal length lens.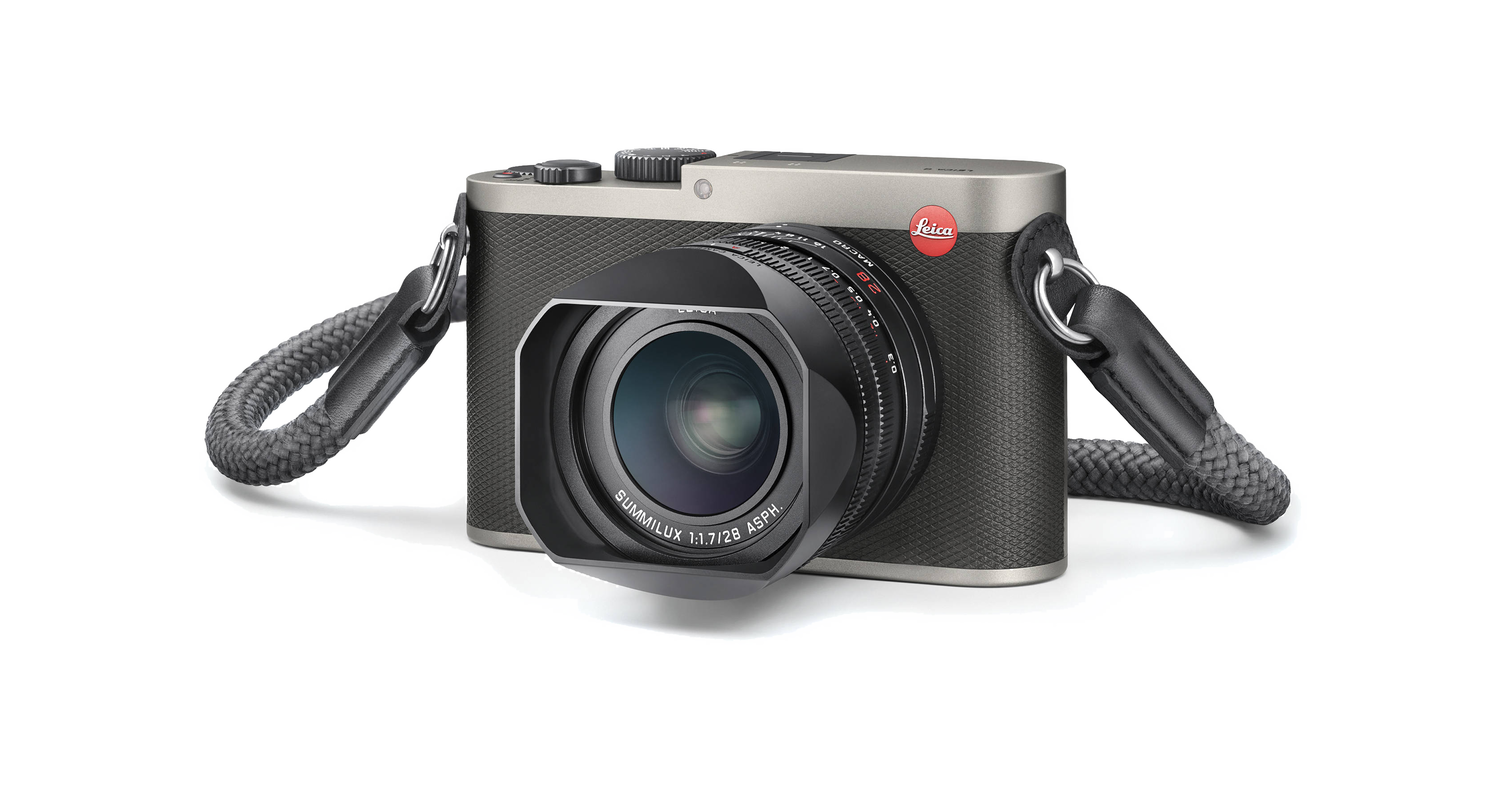 A Compact Camera For Everyone
I would say Leica Q camera fits in the niche of semi-pro or avid-enthusiast camera. While Leica M camera may not be for everyone because it is a manual focus camera requiring settings such as aperture to be dialed by the camera user, Leica Q camera has all the elements that make it very users friendly.
Street photographers, for example, who use only one focal length to capture candid photographs on city streets would perhaps find Leica Q camera o be a perfect companion.  It has a compact body with autofocus and a fast lens that can deliver exceptional results in low light circumstances.
While most manual focus cameras would require a street photographer to utilize zone photography system inclusion of autofocus in Leica Q would mean that exceptional bokeh can also be captured with this compact camera. auto-focus zone system would no longer be needed.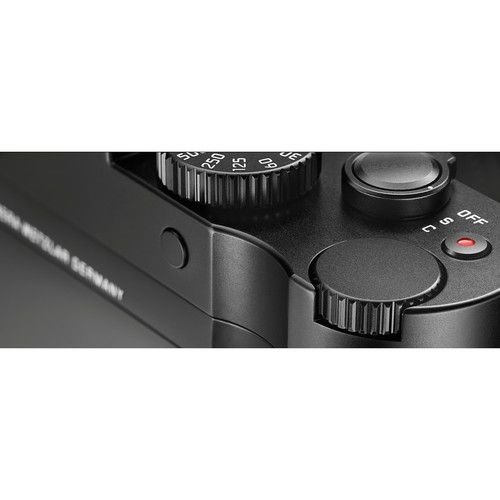 Collector Item
Leica cameras do become collector items and a number of special edition cameras are issued periodically to satisfy Leica collectors. In the past, Leica rangefinder cameras were seen in the hands of celebrities who probably had never used a rangefinder style camera before nor understood how to compose photographs.
Leica Q camera has already been offered in titanium grey and as a limited edition collector items. I think they are beautiful and any Leica Q camera would a wonderful camera but celebrity endorsements are not necessary to sell this high-quality product.
I certainly would not want to see a rerun of Lenny Kravitz prancing around Leica showrooms.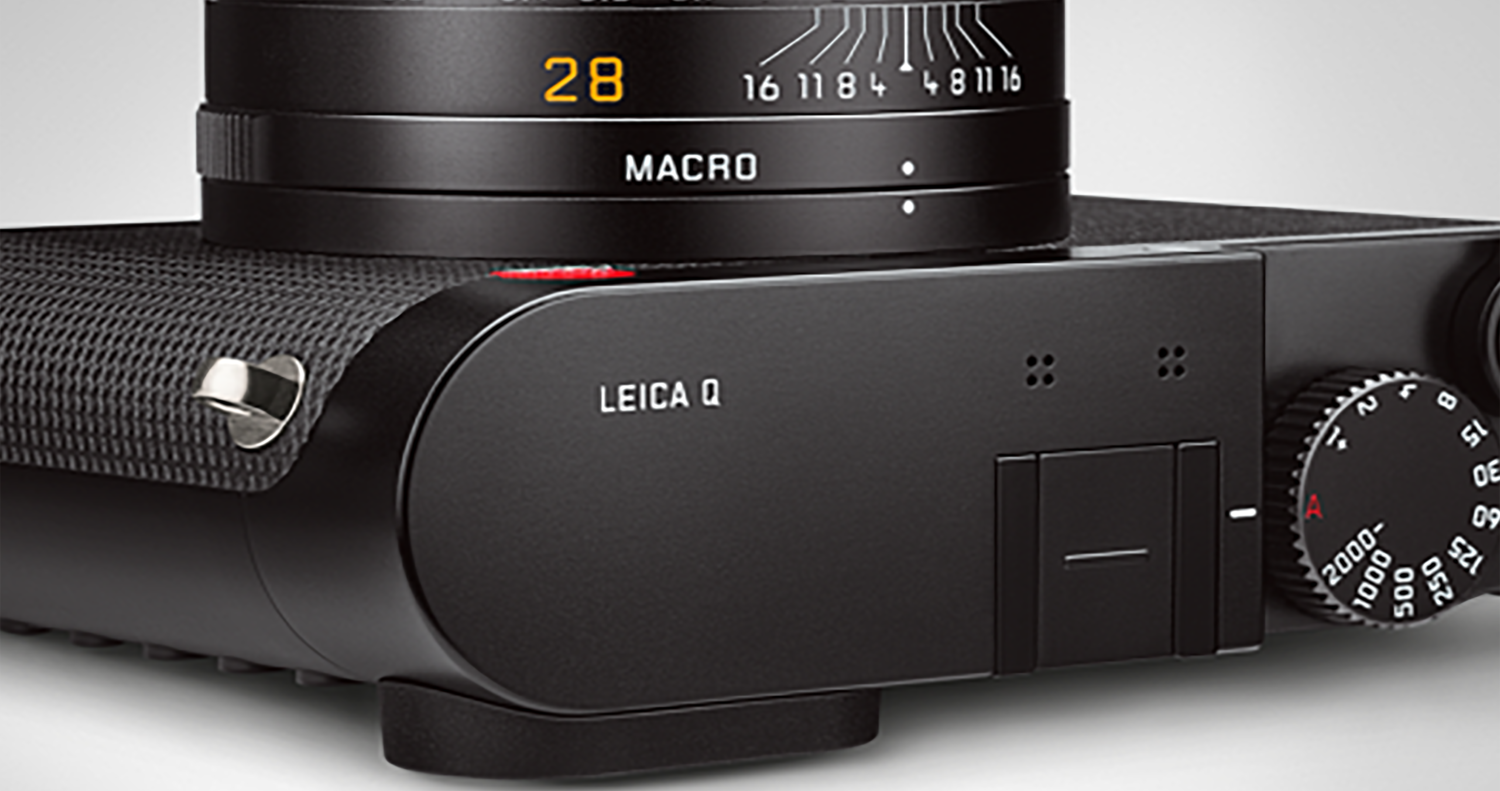 Would we see Madonna or Katy Perry or even Justin Bieber holding one? It remains to be seen.
Purchasing a Leica Q
Purchasing a Leica Q camera is an important commitment. It means you have made your research and know that this is the right camera for you. As a professional photographer, I get often asked about which cameras are worth buying, I have had the question of purchasing a Leica Q camera posed to me hundreds of times in my photography workshops and my travels around the world. The answer is not a simple one for most photography enthusiasts especially for those who already own a Leica camera. The reason is rather simple.
Before beginning this review, I have read just about all the reviews that were written on this "amazing camera" and watched those wonderful "homemade" videos on Youtube from the "expert" reviewers who received their camera from Leica camera as a courtesy. Every review seemed a repetition of the other, a chorus of "experts" who are reviewing a Leica camera one week and a Chinese gimbal the next, saying the same thing over and over again without mentioning any of the shortcomings of Leica Q camera.
For the most part, the "reviews" are right, Leica Q camera delivers exceptional image and the camera is built like a tank that will last a lifetime or two.  It is built in much the same way a Leica M10 camera is built with precision and attention to details.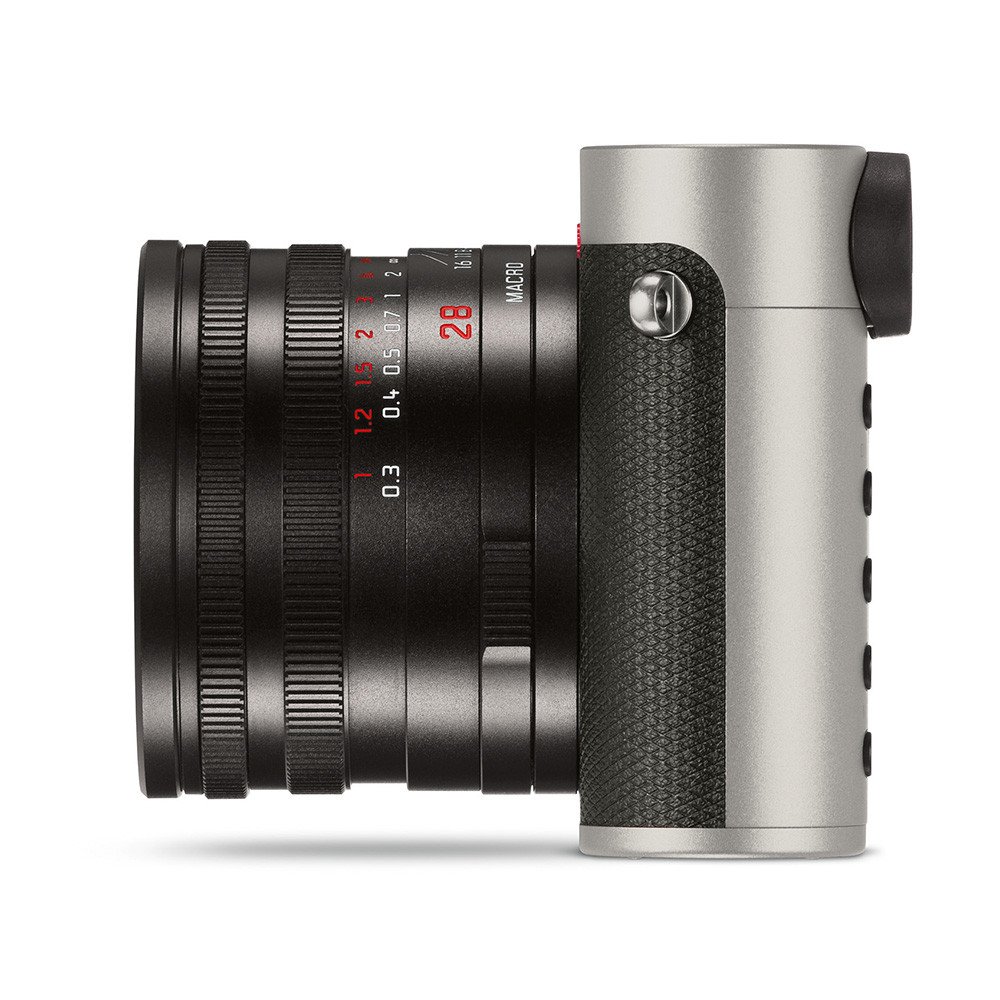 I also see Leica Q camera as a camera that will pave the way for the cameras to come from the German company. Leica Camera knows that the future is auto-focus cameras. Their release of  Leica TL2, X-U, and Q cameras is a testament to Leica Camera's belief in versatile autofocus compact cameras as the future of photography instruments.
On the professional side, Leica SL and S line are both autofocus cameras with the latest innovative advancements. Naturally, Leica M rangefinder camera line will continue to flourish but at a cost to be estimated at 600 Euros for the rangefinder mechanism, the price of Leica M rangefinder camera will always be considerably more than the competition.
Leica Q Line
I firmly believe that Leica Q camera holds some of the key features that camera owners demand and will lead the market in innovation, design, and functionality. To understand this phenomenon let's delve into how the lens and camera industry has been reshaped over the years. For one, Far Eastern camera manufacturers have long ago migrated to smaller DSLRs and mirrorless cameras knowing that the consumers are willing to pay more for easy to use, compact cameras that deliver high-quality images.
Leica camera, on the other hand, has managed to deliver products like the Leica TL2 and Q cameras that are not only innovative but easy to use delivering exceptional image quality. What Leica camera had done was to introduce a product that is highly competitive with a higher price tag than the competition for which the consumers were willing to pay the difference. As a result, months after Leica Q camera's announcement the camera was sold out everywhere around the world.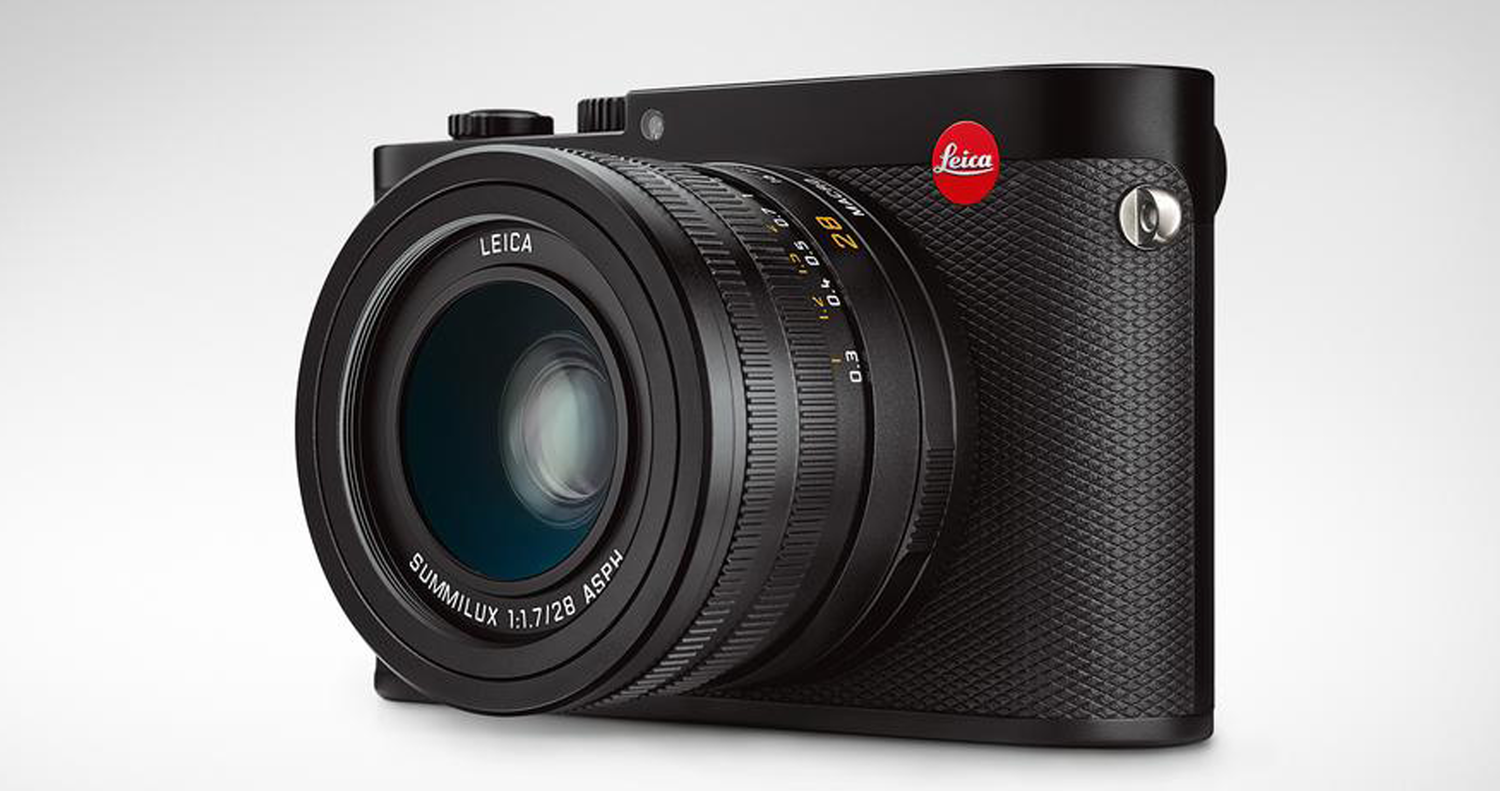 Performance
In order to better understand what Leica Q camera can do as a high-quality camera let's begin by looking at its specs. Leica Q camera weighs a hefty 640 grams, comparably this is more thna other digital compact cameras inthe market. For example, its closest competitor, Sony RX1 RII for example, weight is at 507 grams with the card and the battery included. Leica Q camera is also larger in dimensions that the Sony RX1 RII camera.
In reality the weight of the Leica Q camera camera is closer to Leica M10 which weighs in at 660 grams. While this weight factor may be of concern for those who like to travel light or prefer a light camera for their street photography ventures, the Q camera is a solid camera withouth any of the plastic or flimsy parts. Hence, it is reasonable for anyone who understands that a good lens will need high quality optics and a good camera is made from metal shell casing to be a photography instruments that last for decades or even a lifetime. In another aword, Leica Q camera owes its weight to the high-quality materils used in its manufacturing process for which we ll should be grateful for Leica camera for setting the standard.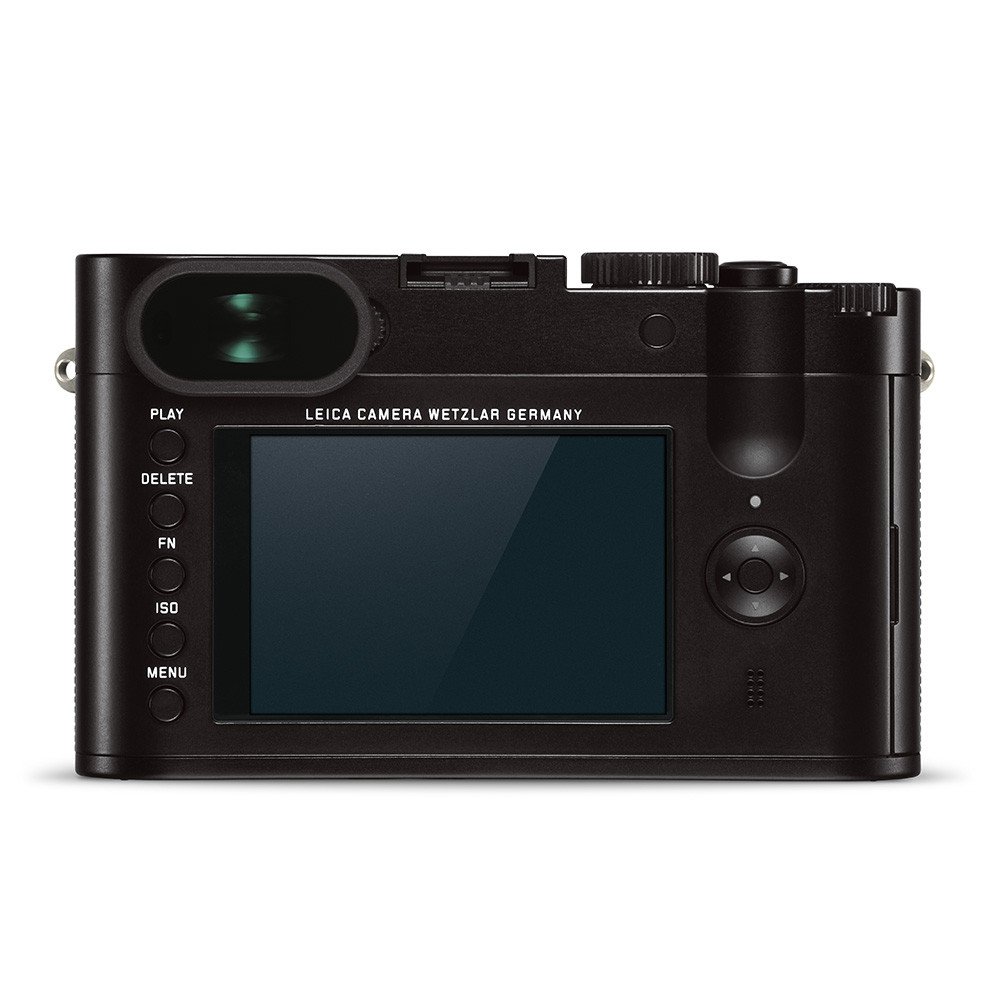 I say if you like the classic lines of a Leica camera then Leica Q camera is the one that can be for everyday use whether you are photographing on the streets of your city or traveling or celebrating that special moment with your family. For those who may question the limitations of owning fixed lens camera, there are many professionals like Bill  Cunningham who spend virtually using a single focal length during his entire career.
While we are on the subject of street photography, Leica Q camera has a 28mm lens with an aperture maximum opening of f/1.7 which means that street photographers can know use their lenses after dusk or when the lighting conditions are less than ideal. As a compact camera, it is perfect for blending in the crowd for those candid photographs.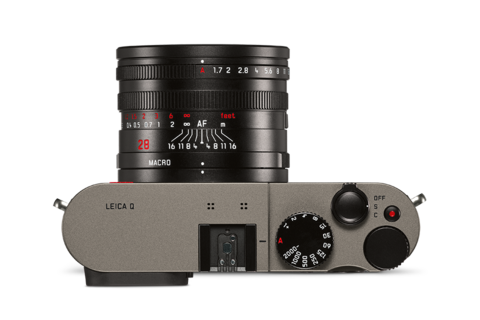 On a long road trip across the midwestern United States, I took my usual photography gear, and I packed my Leica Q camera in my most accessible camera bag. I knew that as a wide angle lens 28mm would be a perfect choice for photographing the small towns and amazing landscape through much of the states, I would be traveling.
Unlike APSc or small size sensors camera, Leica Q camera delivers incredible detail and accurate rendition of colors for those breathtaking details in places like Mount Rushmore, Yosemite National Park and wide open fields of South Dakota. The difference is sensor size coupled with the resolving power of the 28mm Leica Summilux lens is beyond words. Especially for capturing subtle details of the landscape.
Design
Then comes the design, Leica Q camera takes its inspiration from the classic lines of the Leica M rangefinder camera which is indeed a beautiful industrial engineering and design. It is the epitome of  German engineering that dates back at all the way to the early days of the iconic streamlined design of rangefinder camera styling. Naturally, Leica Q camera is pleasing to look at as it is to use, for me, carries the classic trademark design characteristics of Bauhaus period.
When I look at Leica Q camera, I see there is no place for your fingers to grab a firm hold which requires a thumb support to be purchased for single hand use. It could have been included for the sake of ease of use in the original design of the camera. In the end, the choice is left up to the user, perhaps the user would want to use the camera with both hands without needing the thumb support or if you are into photographing with a firm hold on the camera with a single hand operation than a thumb support can be purchased from any Leica Store. I have provided several links for online Leica authorized dealer from which the products mentioned in this article can be purchased directly.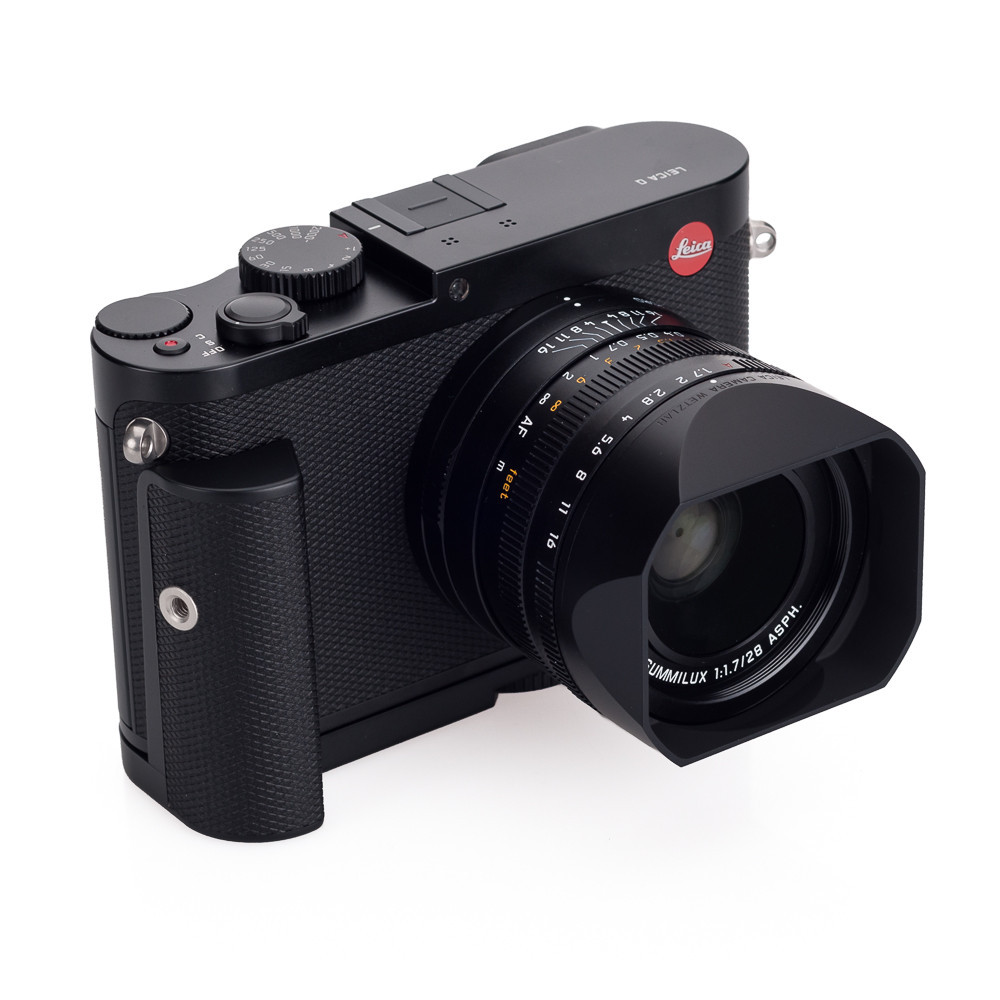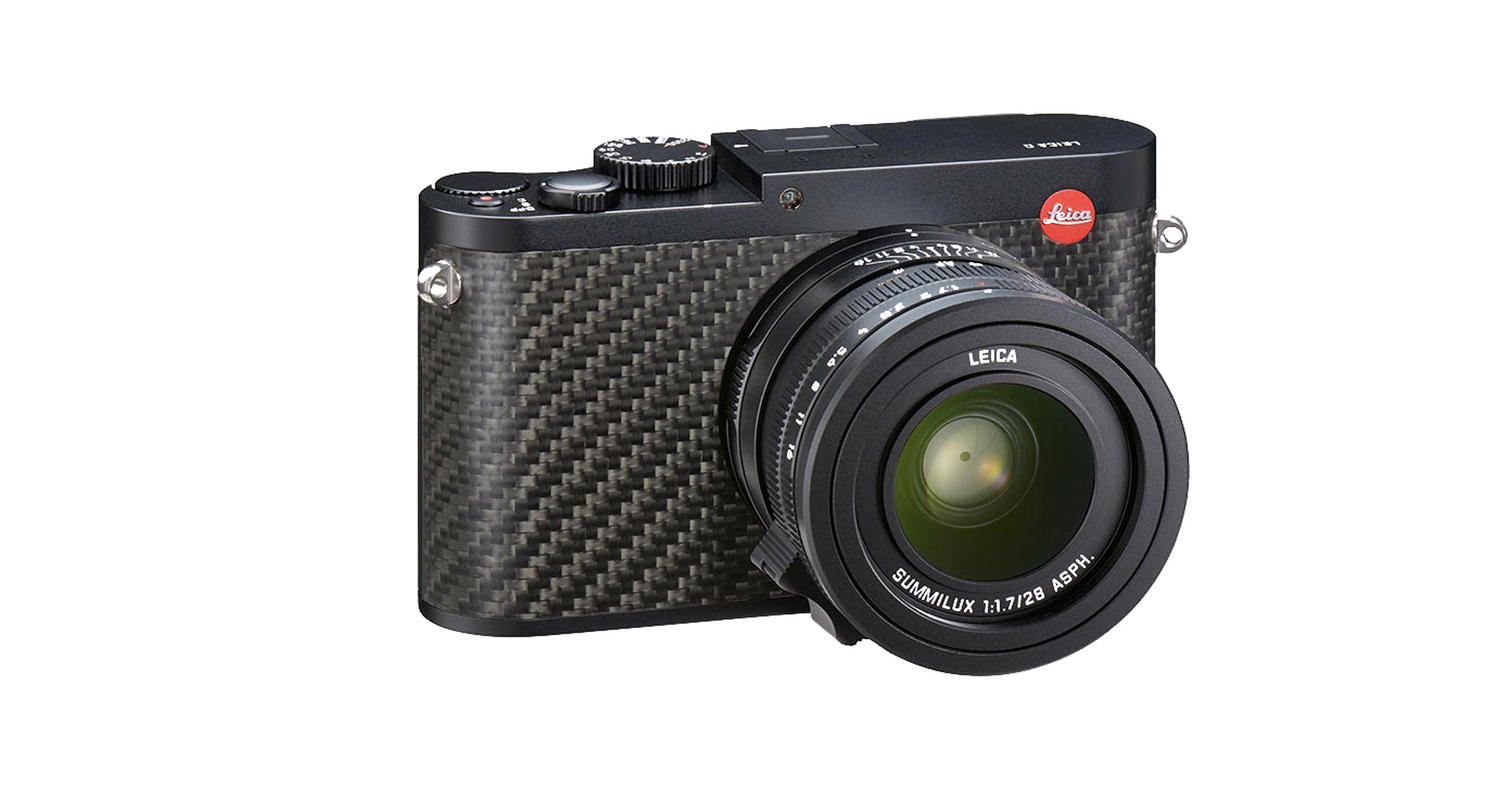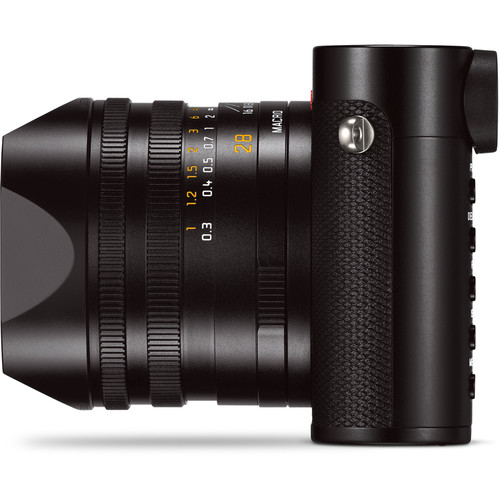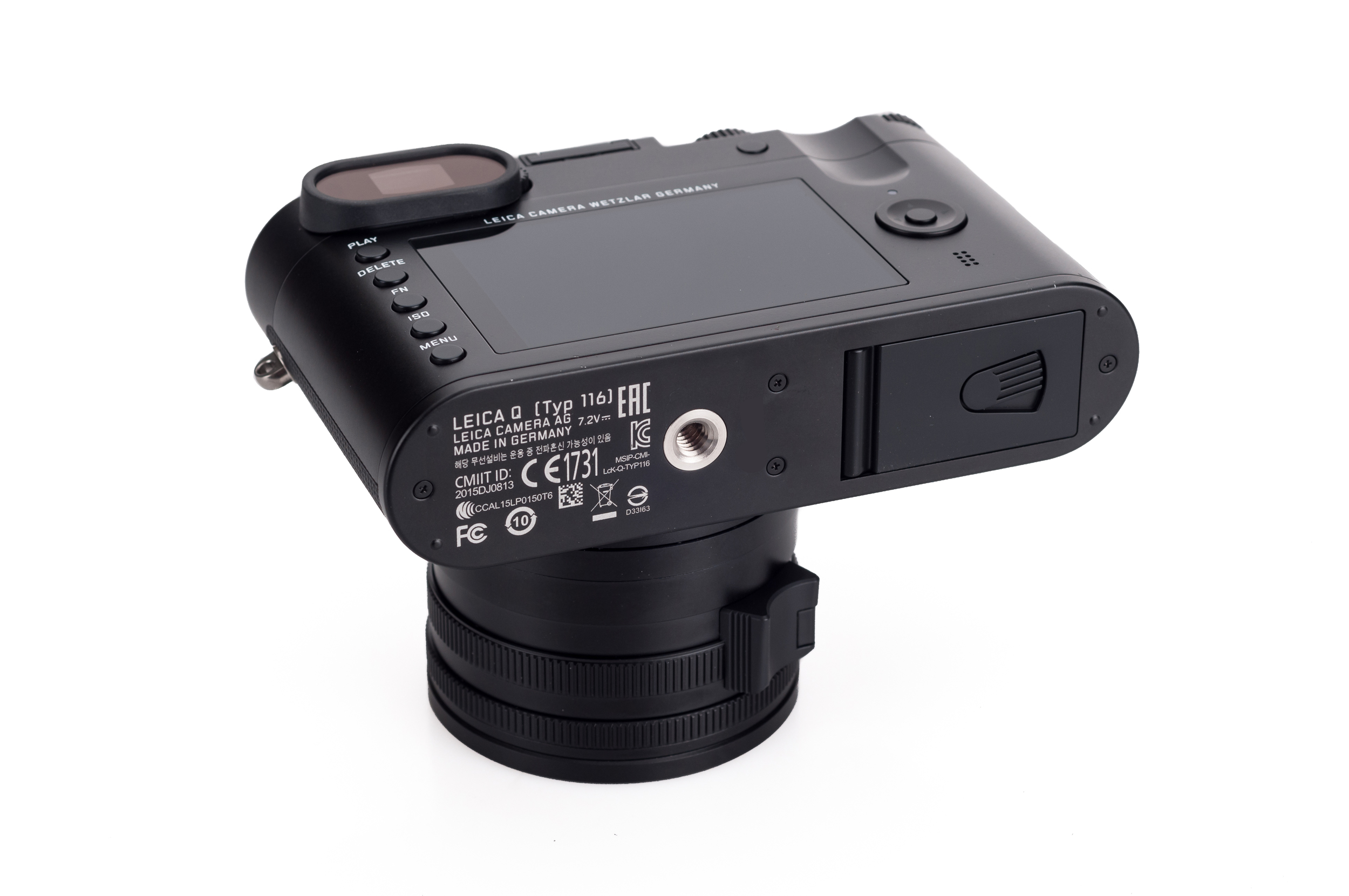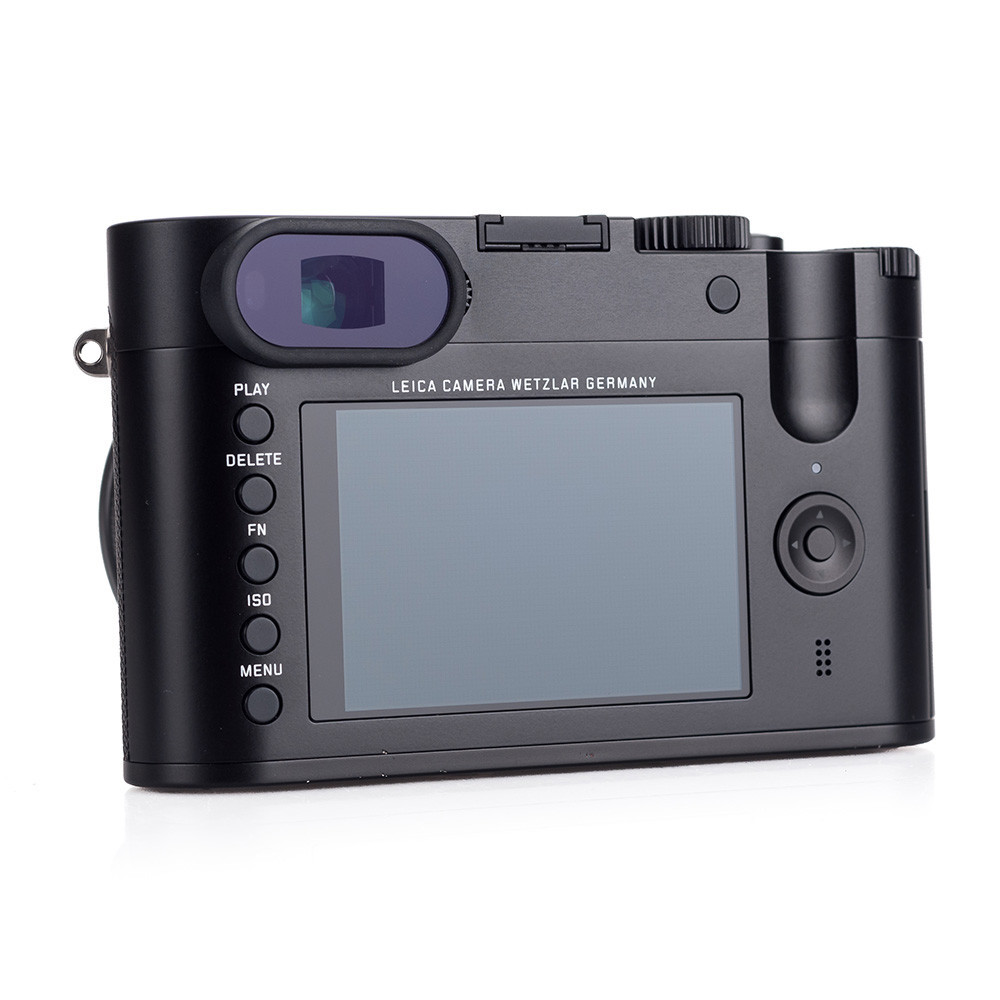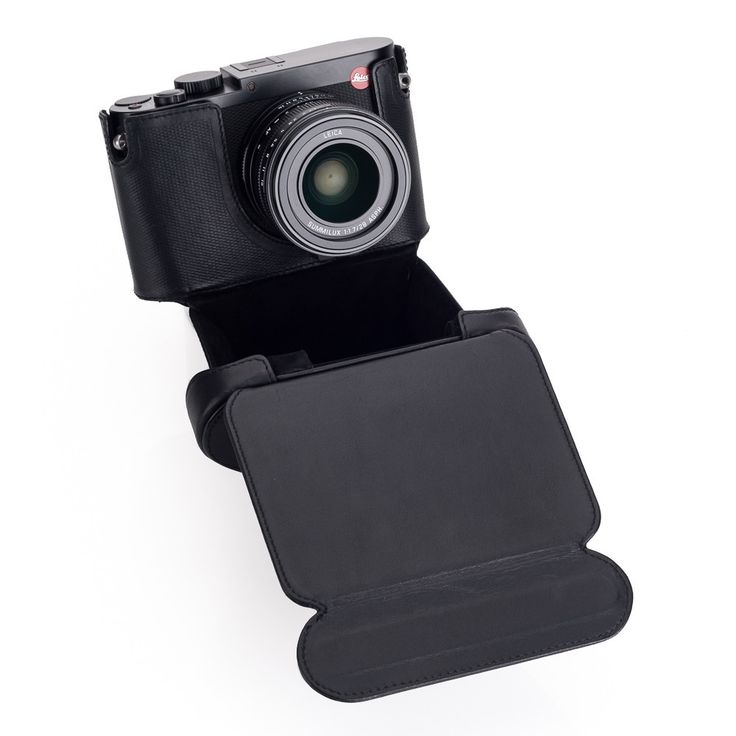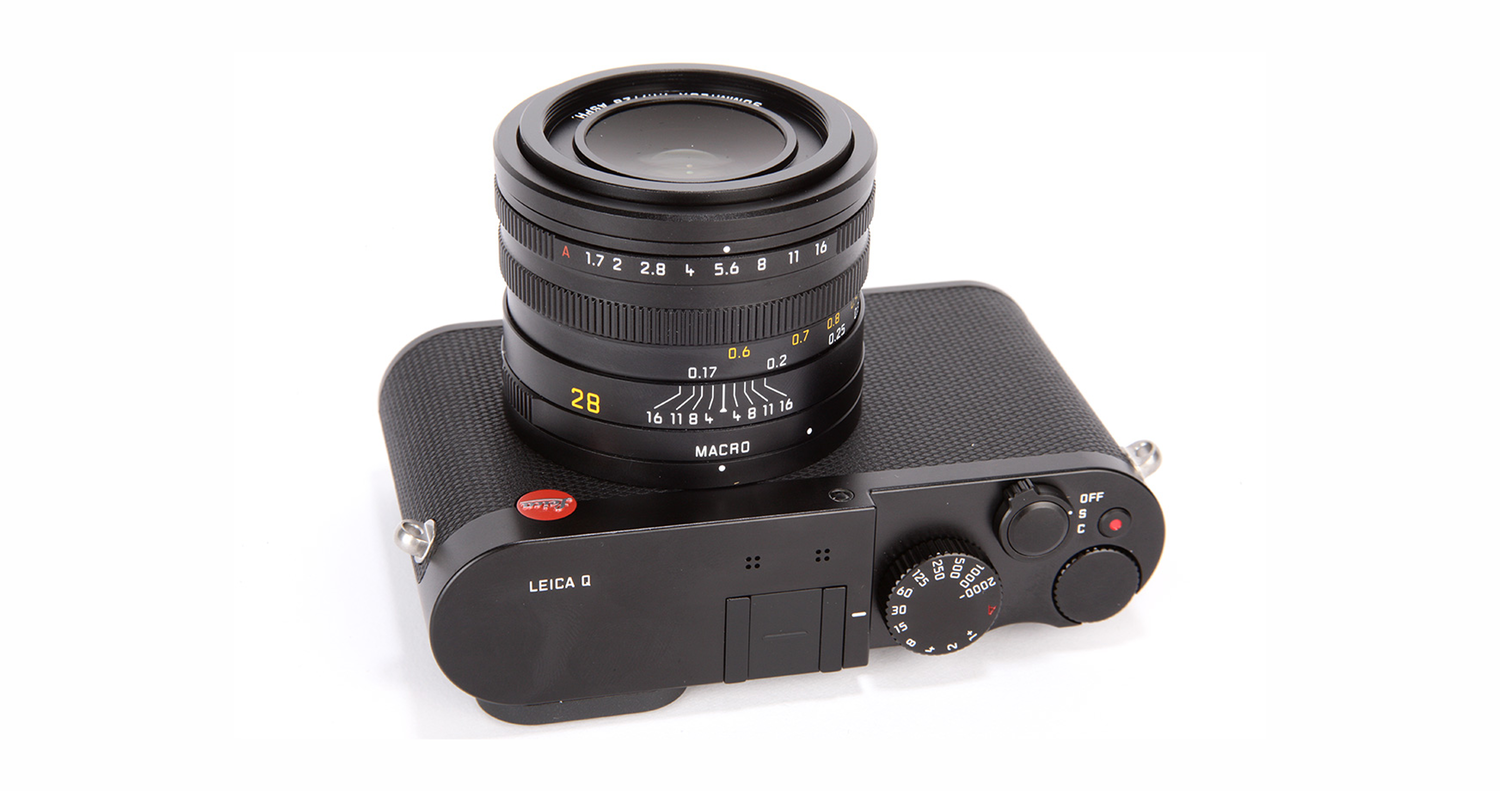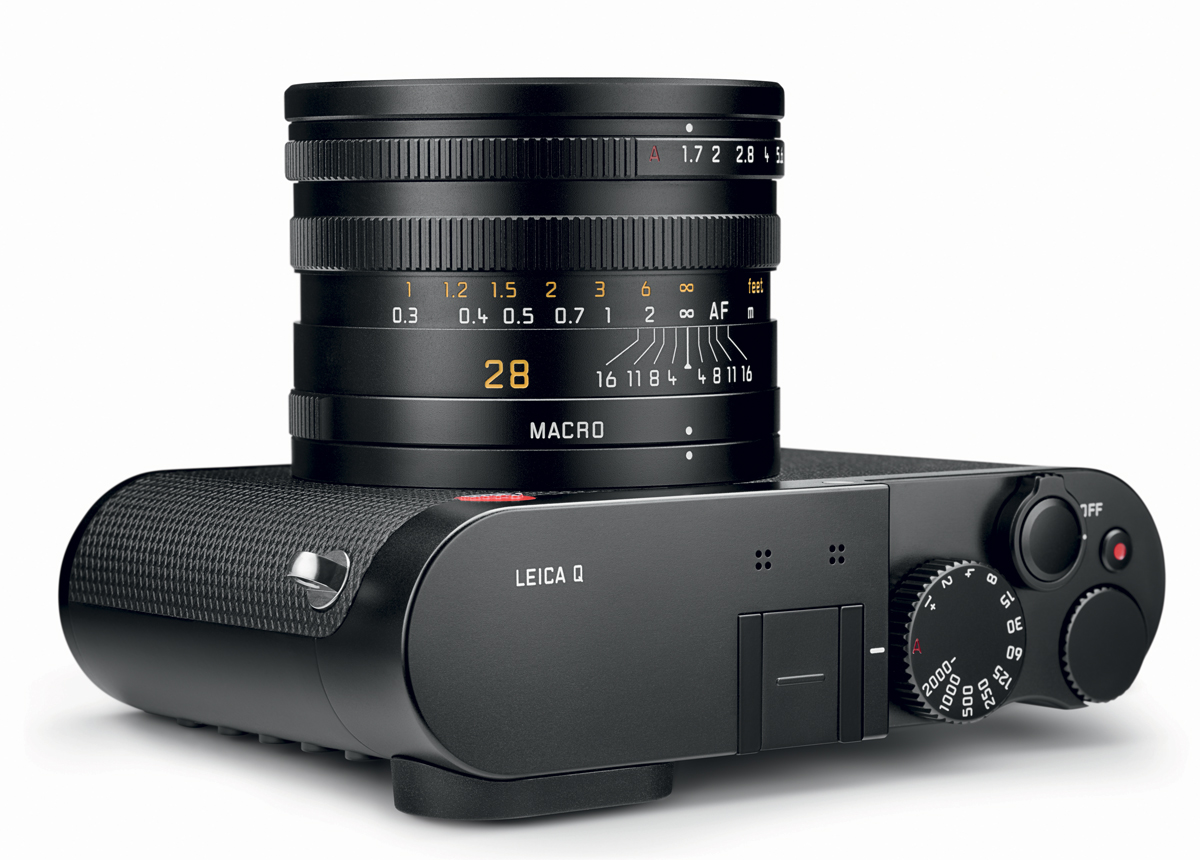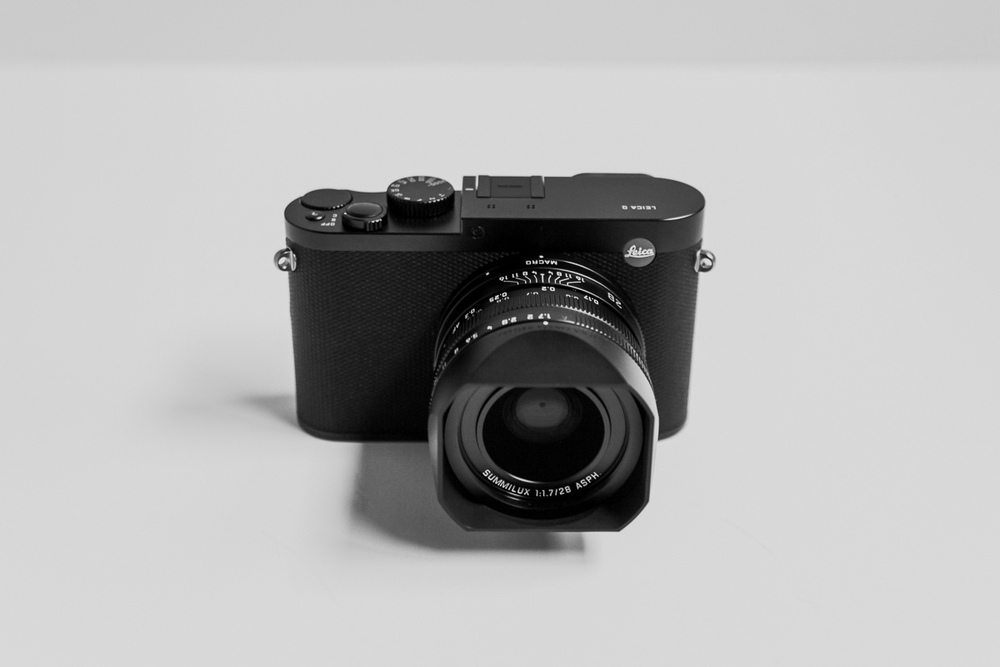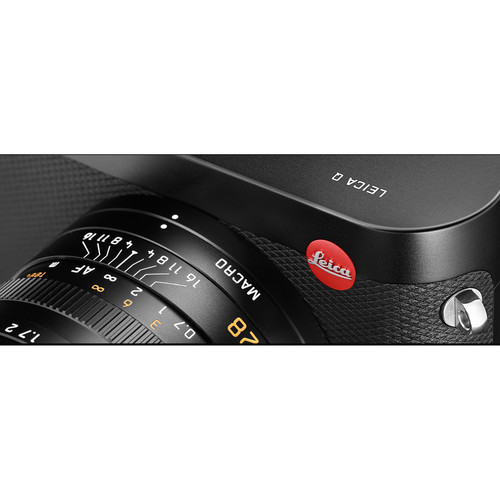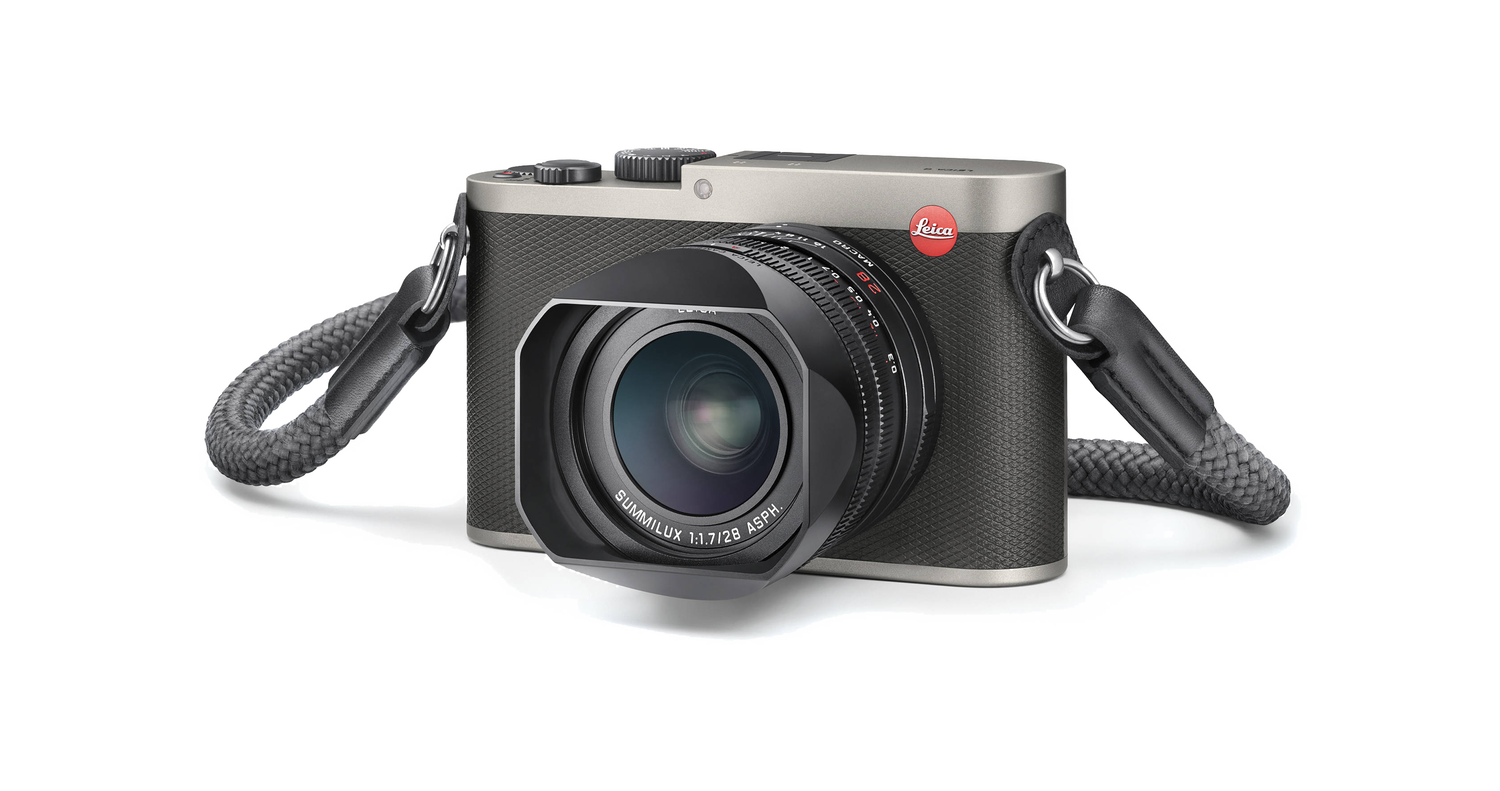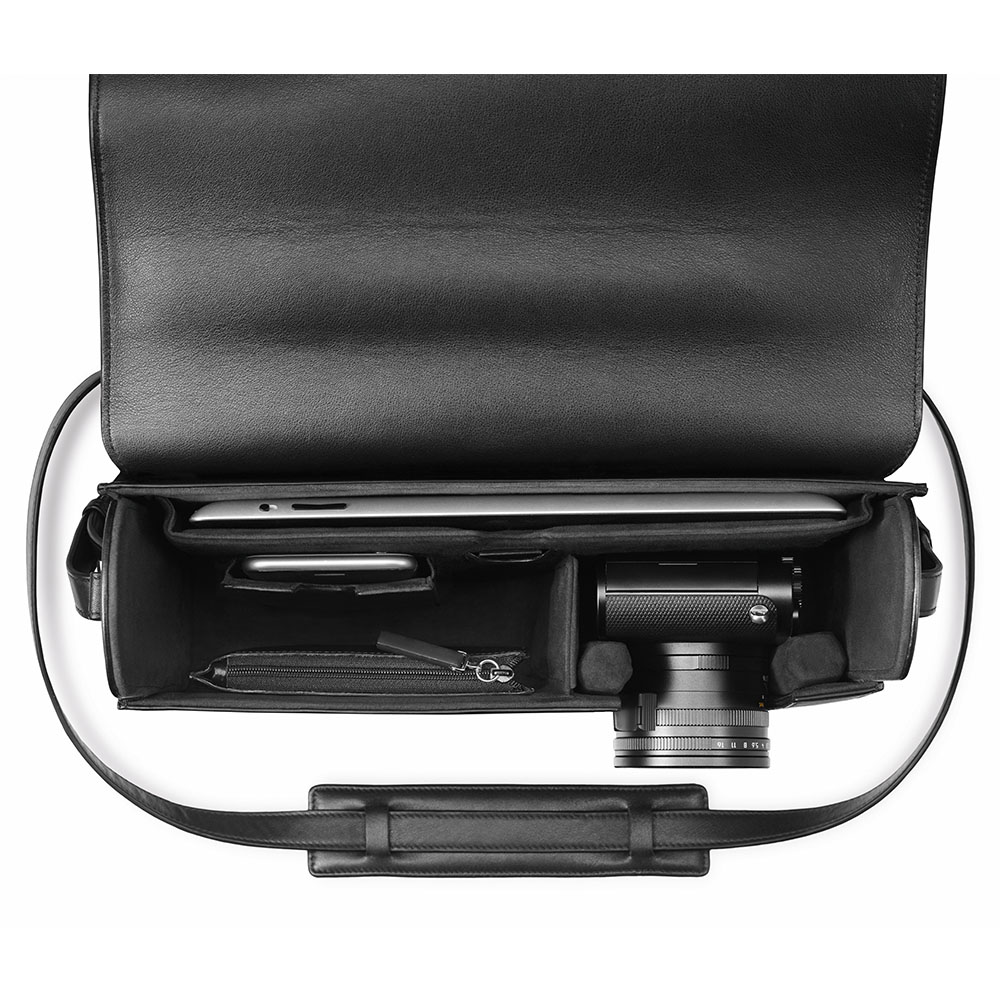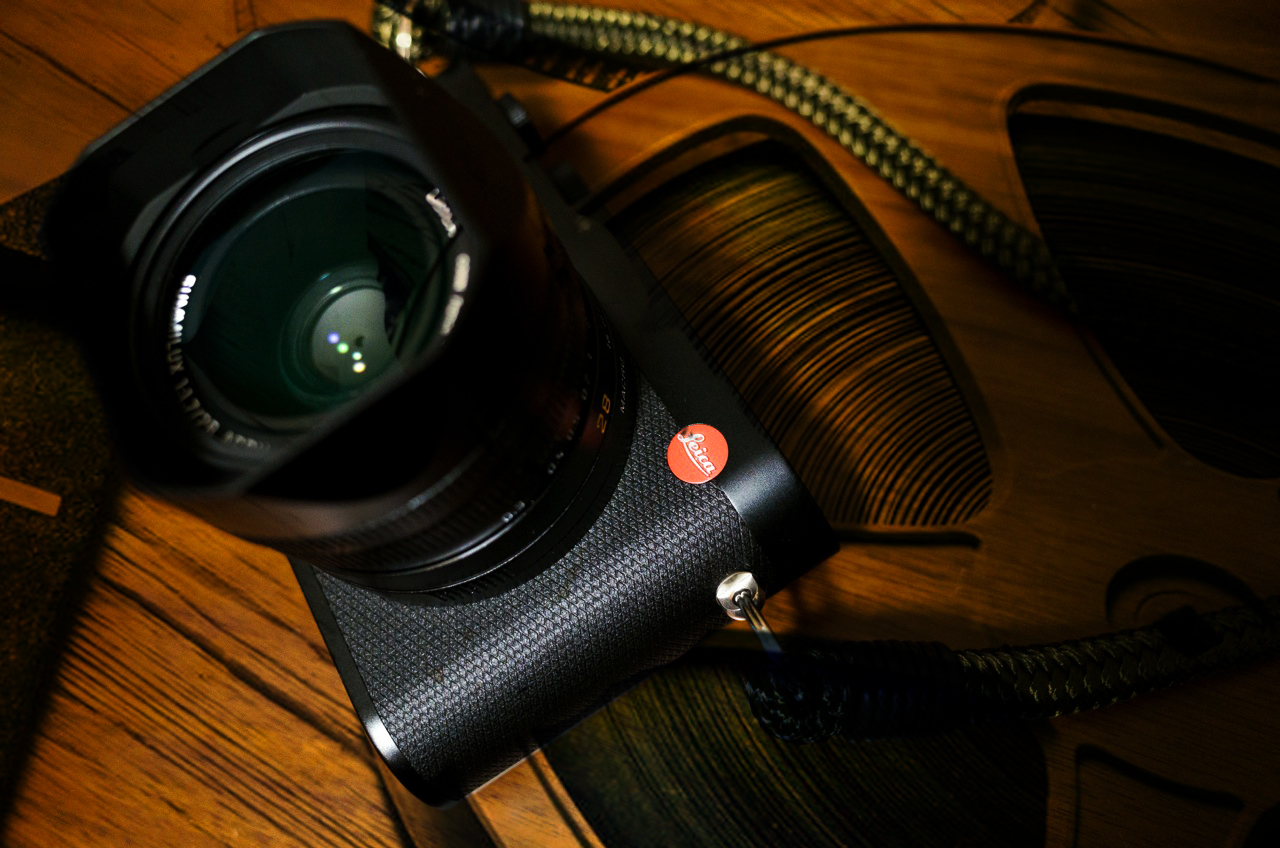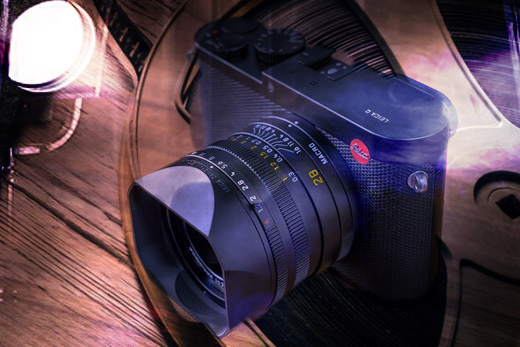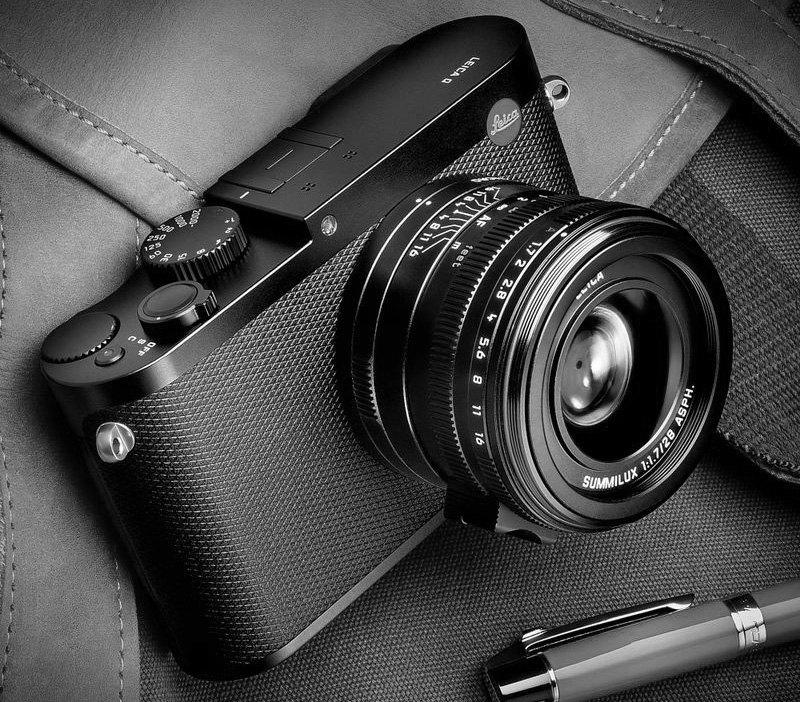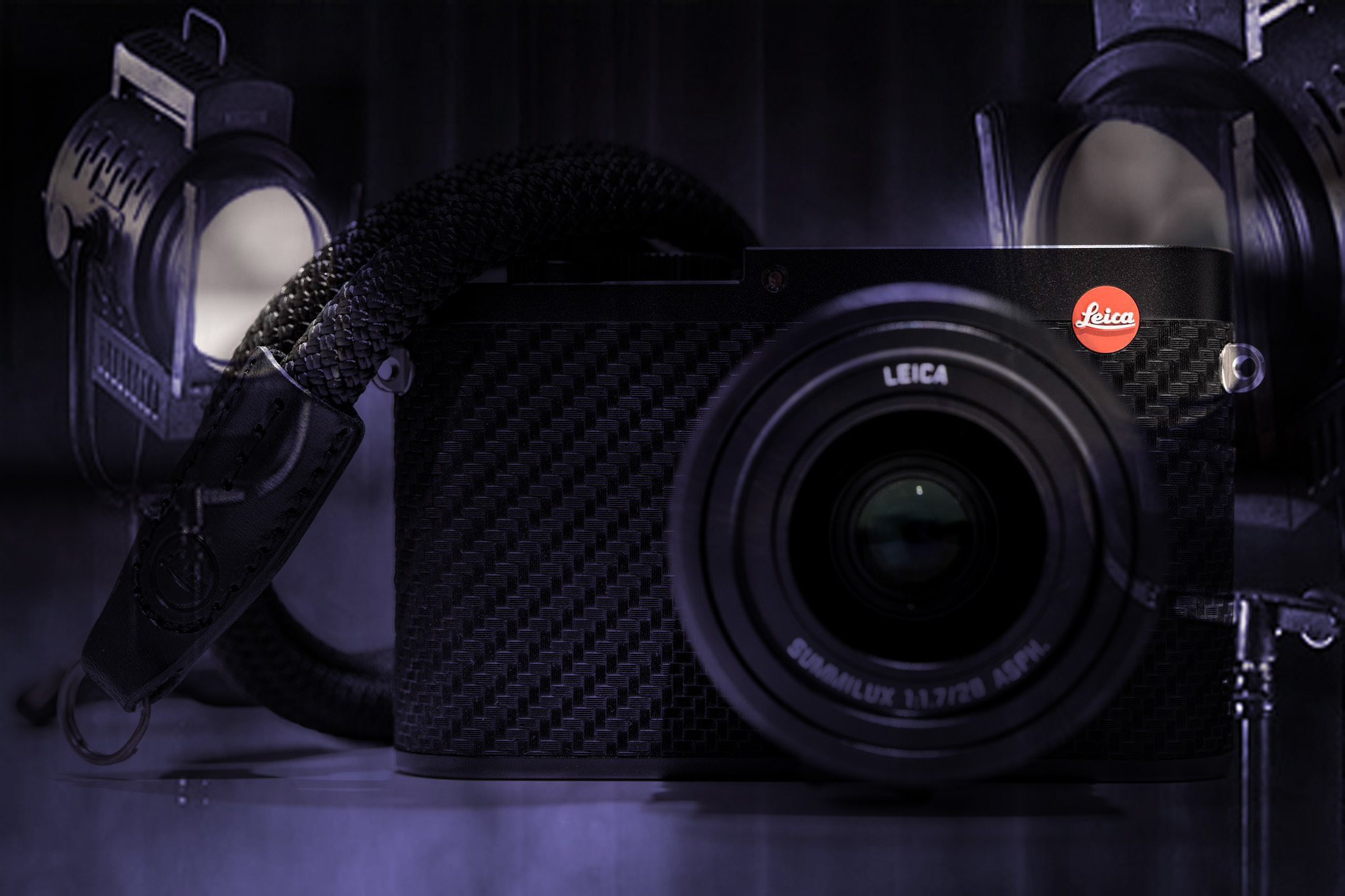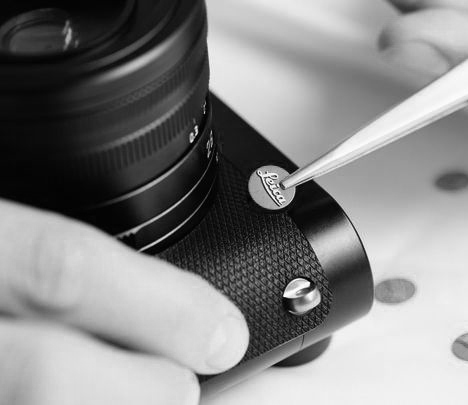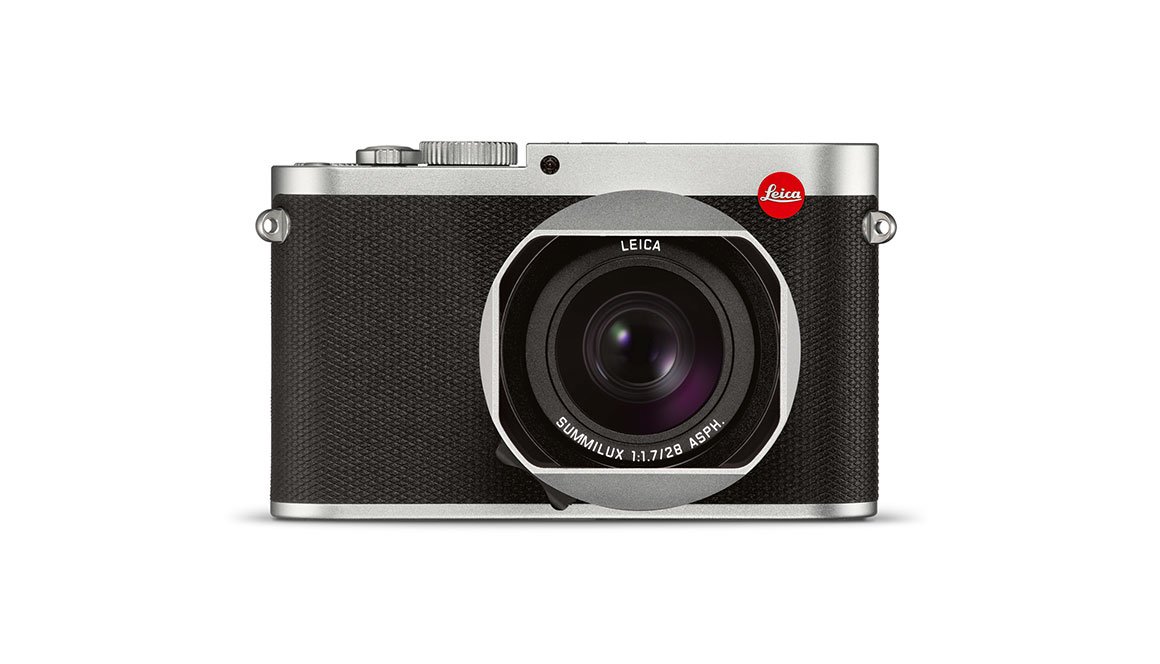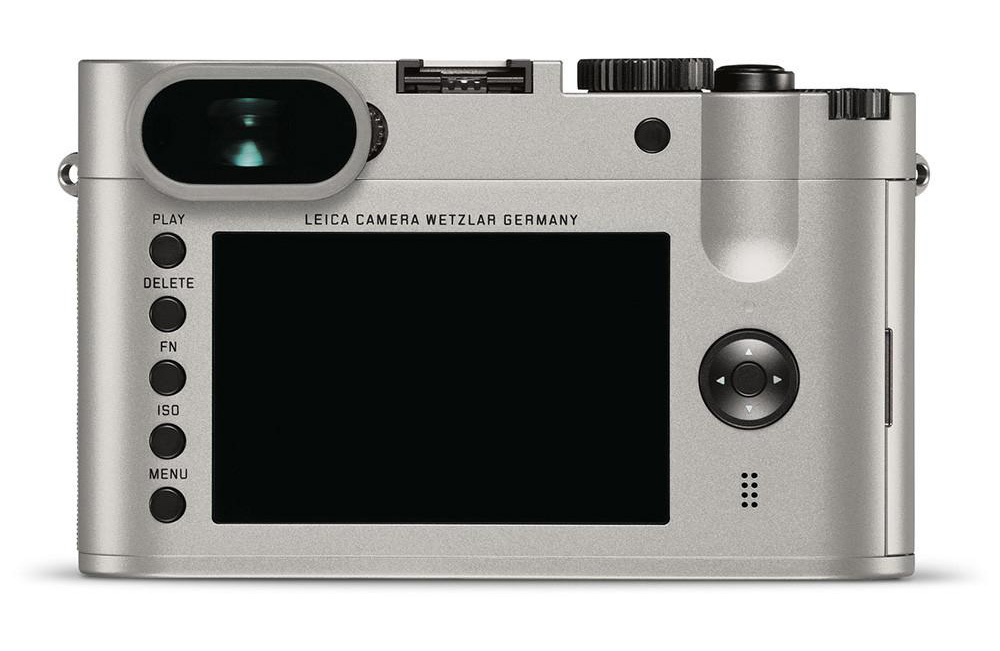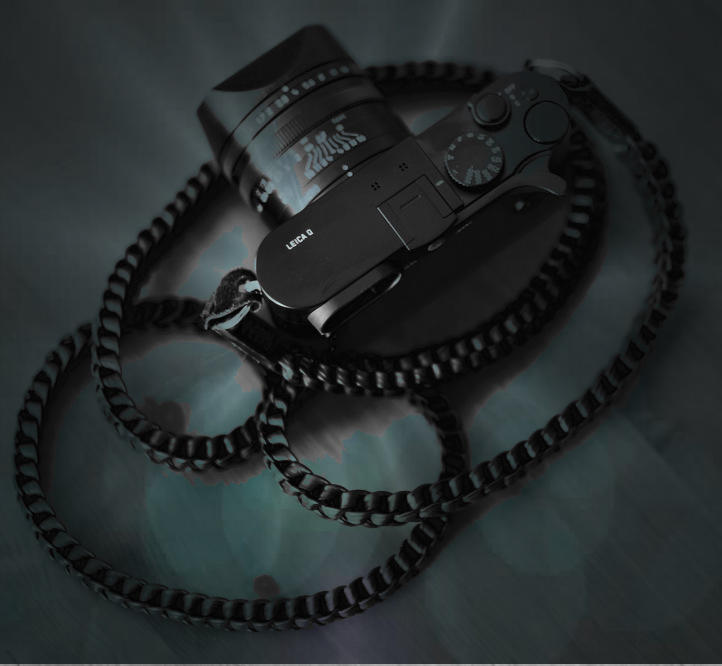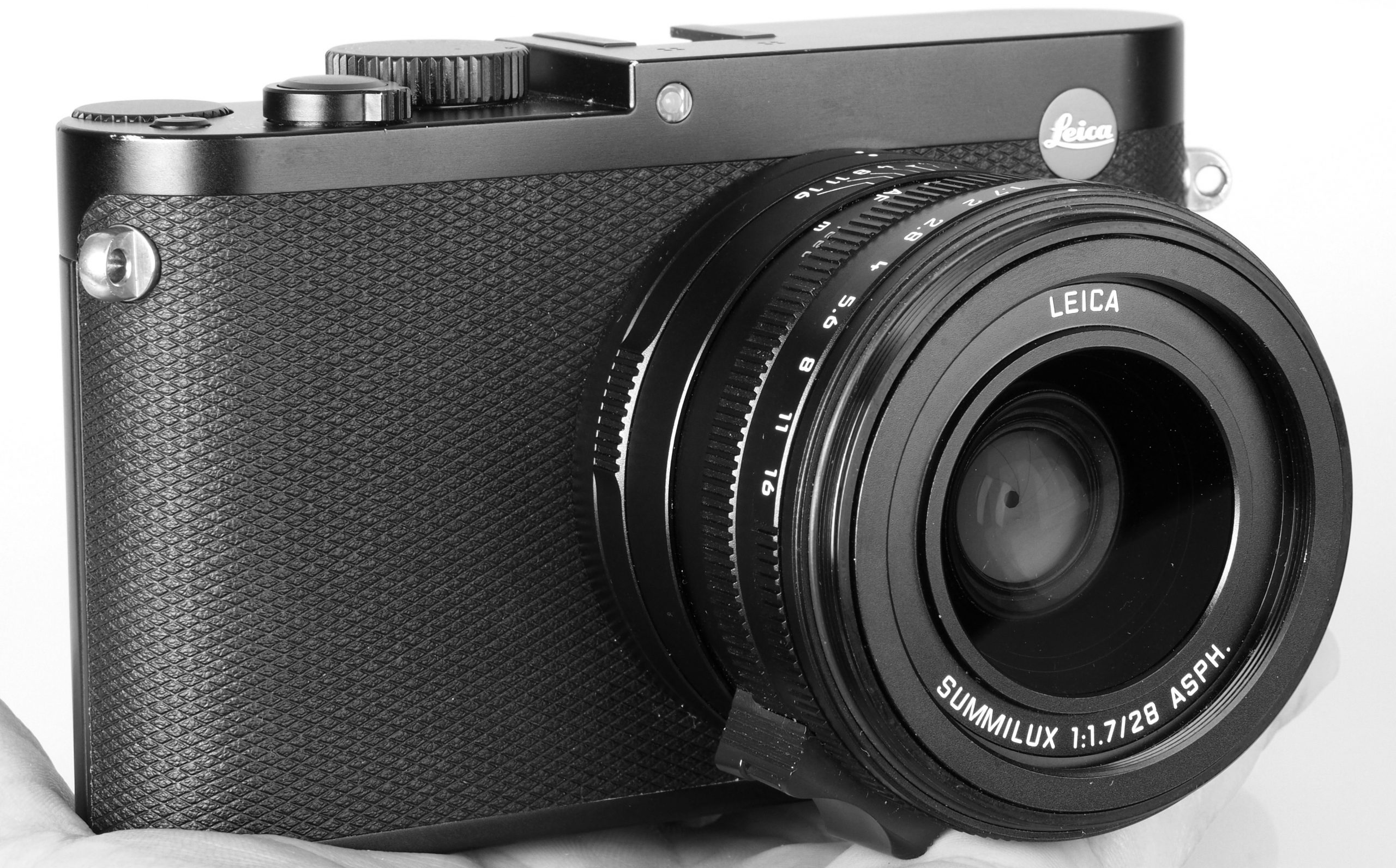 HELP US TO KEEP LEICA REVIEW INDEPENDENT.
PLEASE MAKE A SMALL DONATION TO BRING YOU MORE ARTICLES.